Three Stone Engagement Rings – What Are The Different Meanings?
Posted: July 17, 2020 @ 9:42 am
This is no knocked-up surprise. Three-stone or multi-stone engagement rings were popular since introduced by De Beers. Over the time, couples have 'derived' different meanings for these rings. Let's hear it out.

"We think it's a Holy trinity!"

Just came up with a reply from a lovely & bright couple who recently shared their photo of engagement on Instagram and collectively earned showers of blessings. In Christian Theology, the Trinity denominations are God the Father, God the Son, and God the Holy Spirit. With this divine understanding, the three-stone signifies pure & authentic love.

"For me, it's our past, present, future…"

Couples sharing a strong emotional bonding share resplendent memories with each other. We can't think why they won't select three stone engagement ring settings when it is everything about their lives, particularly the hardships, the troubles, the happiness, and extremely admiring moments.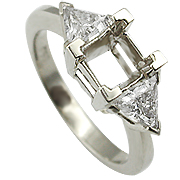 Here's a note to the couples who want to establish their relationships with a sturdy "cornerstone" of their life – do consider these ring settings for evoking those memories time and again, especially when you need them the most.

"It completes our family – unifying with our child"

Maternal & paternal happiness isn't abounding for anything. Couples wanting to tap their relationship with three stone ring settings have wonderful reasons to justify. A child is like an invaluable sea of treasure for the parents. They laugh, cry & smile with this sapling and share intense moments of love. This is very special.
Author:
Israel Diamonds
Viewed:
41 Views
Check Out All Of 's Blogs!
Comments: