Emotional Anchors Away
Posted: November 12, 2013 @ 11:07 am
Featured Member
A Mighty Anchor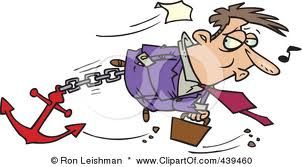 Just as it is impossible for a ship to drop anchor and then leave port while still being chained to the bottom of the sea, so is it impossible for us to cling to our regrets in life and be able to move on from there at the same time. –Guy Finley
In the middle of a tough situation, powerful is the last thing we feel. Out of control and stuck probably are better descriptions..
It's not true, though. You ARE powerful. You just put all the power in the anchor. The anchor is keeping you stuck.
This is not what my clients like to hear. The anger often comes into the picture at this point. A lot of clients throw around how-dare-you or you-don't-know-my-situation, you-don't know how awful it was. Which can all be true, especially in the early meetings before they tell their story.
Doesn't make me wrong, though - you gave away your power to an anchor. So did I. It makes me more emphatic about getting people to tell their story. Telling their story allows for release of the pain, it honors what it took to survive the pain, it validates their true nature AND IT SHOWS WHERE THE ANCHOR IS. We hold tightly to the anchor because we think it keeps us safe- but it is an illusion of safety.
Fear makes us cling to unusual things, like regret or unreal expectations.
Find that anchor of "false safety" and you find where the power hides.
Taking that power back is the next step after telling your story. It's re-inventing yourself. This is when I hear the I-can't-do-this. Well, there are a lot of things you can't do. You can't change the past. You can't control another person.
But this is usually not about I Can't; this is about folks denying their desire to hold on to that false safety or false hope or false power. They have identified with the problem-- become the problem. Therefore, letting go of this anchor is letting go of themselves.
Look at what you CAN do to restore authentic power.
You can ask this question: Is this truly an I Can't situation or is it an I Won't situation? [I Won't can also show up as I Don't Want To.]
You just found the anchor.
Anchors can be helpful; they have their place. Yes, they'll hold you steady in a storm. [which is exactly what they did in your childhood.] But they hold you back when you're ready to move forward. The good news here is: it's your anchor. You get to choose what to do with it.
Ahoy, matey. Time to leave the harbor.
Want a free copy of my brain-changer exercises? Email me at zippy [email protected] and get yours today.
Author:
Annie-Pat Hopkins
Viewed:
183 Views
Check Out All Of 's Videos, Images, and Blogs!
Comments:
| | |
| --- | --- |
| | You Like This |