| | |
| --- | --- |
| Wissonly Hi Runner Wireless Bluetooth Bone Conduction Headphones Review! | Posted: September 19, 2023 |
Wissonly Hi Runner bone conduction earphones.These are my first bone connection earphones.I've never experienced anything like this before.
They were sent to me for evaluation purposes.In my opinion,these things are pretty awesome,and the sound quality on these is way better than I expected.It came packaged very nicely in the box, and you get the headphones themselves,you get a charging cable and it's a magnetic type charger.If you charge this thing for two hours,it'll give you up to ten or so hours of play time.You also got a little stretchy band,and a set of instructions hooking it up,super simple.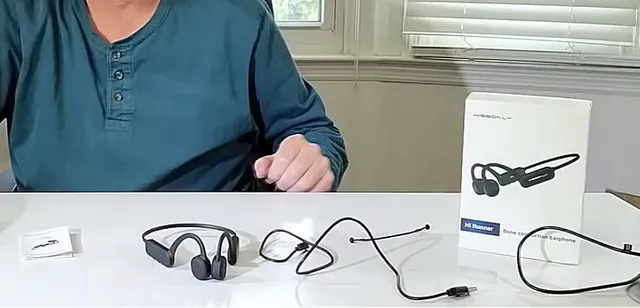 let's go through some of the features on them.So if you've never used bone conduction headphones anymore, they don't actually fit into your ears or your ear canal, so these are perfect for someone who's an athlete.They slip on over your ears and they sit in front of the ear.I've never experienced this before but it actually generates the sound through the bones in your ear.I guess the sound quality to me is super impressive.I'm blown away by the way they hook on.They're super comfortable, super lightweight,I can't even feel them on.And they're not moving around.They're waterproof by the way.So for someone who's a runner,a jogger,a bike rider,this is perfect.They stay on there perfect,they don't fall off. The best part is if you're out running on the street or you're riding on the street,you still got your open ear canal to hear what's going on in your surroundings,and keep you safe.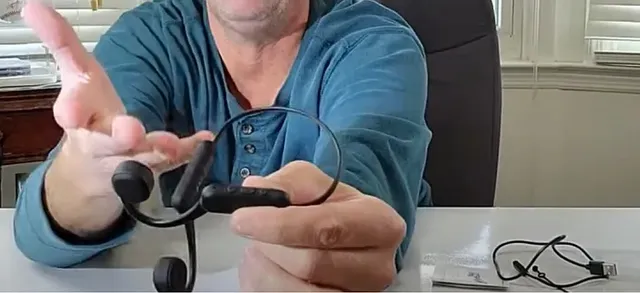 You will have all your controls on the one side.It's very simple you got three buttons: power on and off,and you've got an up and down button(a plus and a minus).
Another thing is they have 32 gigs of memory,so you can actually hook this up to your computer and use it like a flash drive and drop 32 gigs of tunes on there. whatever you want a podcast that's a lot of space, and when you're listening to Tunes you can just press and long hold the up or down, and it'll move to the next song or the last song.
And the last thing is you can use it to answer phone calls.If you're looking for a headset something to take to the gym, something to take out jogging,something to take bike riding,something to do athletic with or just something to go for a walk with or to wear to work. Check out these Hi Runner bone conduction headphones by Wissonly,they are awesome,check them out!