| | |
| --- | --- |
| Elevate Your Corporate Event with A Charleston Harbor Cruise | Posted: September 26, 2023 |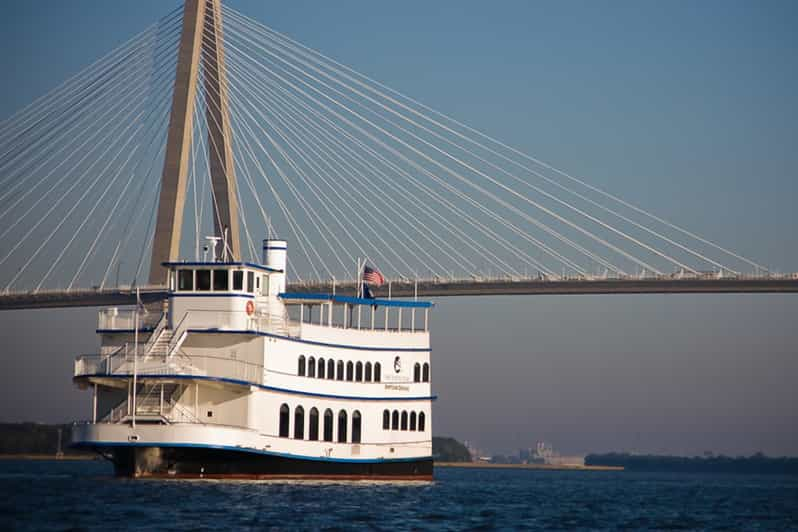 If you're in charge of organizing a corporate event that needs to stand out and leave a lasting impression, consider booking a Charleston Harbor cruise. Charleston's picturesque waterfront and historic charm provide the perfect backdrop for a corporate gathering that's both memorable and productive. Here's why a Charleston Harbor cruise is an excellent choice for corporate bookings:
1. Unique and Memorable Setting: Hosting your corporate event on a boat is a unique and memorable departure from the typical conference room or hotel ballroom. The stunning views of Charleston Harbor and the historic downtown skyline will create a captivating atmosphere that your attendees won't soon forget.
2. Customizable Options: Charleston Harbor cruise providers offer a range of customizable options to suit your corporate event needs. Whether you're planning a team-building day, a product launch, a conference, or an executive retreat, you can tailor the cruise to match your objectives and preferences.
3. Onboard Amenities: Many Charleston Harbor cruise boats are equipped with modern amenities such as Wi-Fi, audiovisual equipment, and comfortable seating. This ensures that your event runs smoothly, whether you're conducting presentations, workshops, or team-building activities.
4. Exclusive Privacy: Booking a Charleston Harbor cruise means you have exclusive use of the vessel for your event. This ensures privacy and minimizes distractions, allowing your team to focus on the agenda and engage in productive discussions without interruptions.
5. Team Building Opportunities: A cruise on Charleston Harbor can be combined with team-building activities such as onboard games, interactive challenges, or themed events. These activities foster teamwork, boost morale, and strengthen relationships among your team members.
6. Scenic Relaxation: In addition to productive work sessions, attendees can also enjoy moments of relaxation on the deck, taking in the beautiful surroundings and refreshing sea breeze. This balance of work and leisure can enhance the overall experience.
7. Catering Options: Many Charleston Harbor cruise companies offer catering services, allowing you to provide delicious meals, snacks, and beverages to your guests. Enjoying a meal with colleagues against the backdrop of the harbor adds an extra layer of enjoyment to the event.
8. Networking Opportunities: A Charleston Harbor cruise offers a relaxed and intimate setting for networking. The informal atmosphere can facilitate meaningful connections among attendees, whether they are colleagues, clients, or business partners.
In conclusion, booking a Charleston Harbor cruise for your corporate event is a strategic and unforgettable choice. It combines the practicality of a productive meeting space with the allure of a scenic cruise, creating a unique and engaging experience that will leave a positive and lasting impression on your attendees. Elevate your corporate event by setting sail on Charleston Harbor.