Redesign – the way to go or absolutely no
Posted: July 5, 2016 @ 11:53 am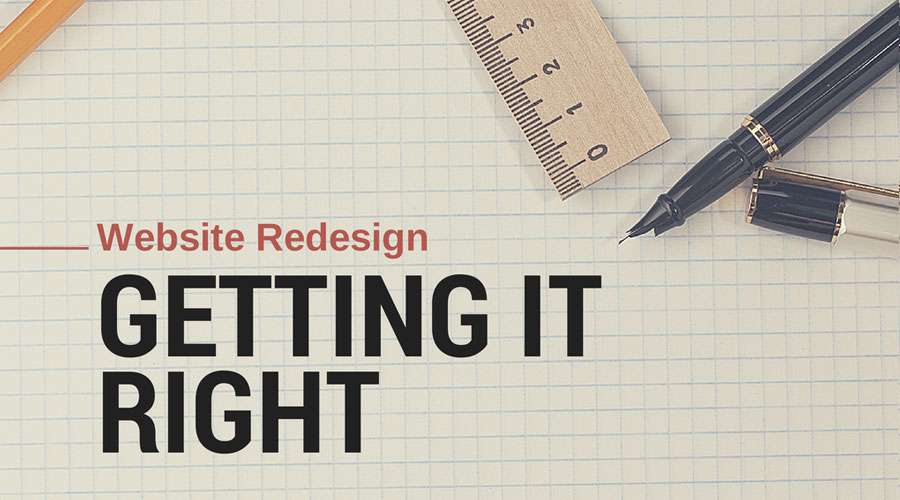 Would you like to change the design of your website? Do you think it will be good for your business results? Maybe you even believe that new website design will bring you new customers and increase sales? Well, we would not be so sure about that.
So, here is the bad news: the redesign in itself, as appealing as it may seem at first, can turn out to be a waste of time, money and effort. Some people know horror stories about the redesign that ended up as a total and embarrassing failure or fiasco in other words.
The question is where is the catch with the whole redesign idea? As our experience shows, the catch lies in the lack of marketing research and planning. It is as simple as that. Some companies are so filled with enthusiasm and creativity when it comes to redesign, that they forget the rule of thumb: when it comes to business, enthusiasm does not really matter. What matters, is extensive research and careful planning. Without those things, all of your redesign efforts mean nothing.
Our recommendation is the following: when it comes to redesign, do not count on good luck. We offer you a list of 6 cases when you should consider pursuing redesign of your website or quit it without hesitation. Of course, we would say that your gut feeling is wrong. Still, it is better to check our recommendations. Otherwise, do not feel surprised if after redesign your conversion rate plummets.
The main question is: do you really need a redesign or is it better to leave your website the way it is?
Scenario 1: Not enough traffic
So, your website does not get that much traffic and you are definitely not happy with your sales figures. The problem is, in this case, you will need not only a redesign, but must probably the whole new concept of the website. Also, in this case, you have not much to lose, so a complete redesign is the way to go!
What are the steps? First, create an internal structure of your future website. Our recommendation is to include as many landing pages as possible. Such approach will give you organic traffic. Second, fill the website with content that will be useful for your customers and prospects. When the website is alive, do not forget to update the content regularly. Third, focus on the website functionality and do not get carried away by different web design features, such as parallax. Remember that your ultimate goal is to increase conversion rate. With various web design features, average user usually distracts very easily. Do not create additional distractions for them. The main risk if overloaded web design leads to low conversion rate, and that is definitely not the goal of you redesign.
Scenario 2: Low conversion rates
Let's imagine that you have lots of website visitors but, for some reason, they do not turn into conversions. In this case, a total redesign is not the answer because you are probably doing something right. The challenge is to understand what you are doing wrong. If you make a total redesign, you will never understand what was wrong, and chances are you will make the same mistakes, again. Also, with a new responsive web design, you may even lose the traffic you have now.
What is the best way of dealing with the problem? Our recommendation is to change some parts of the website and observe the traffic. This is the scenario with a lot of testing: A/B testing, using eye-tracking research, etc.
For instance, let's take a 'call-to-action button' and try different shapes, colors, fonts, etc. After you apply some change, watch users' reaction and analyze the website statistics. Well, we know it takes much time. Still, the outcome is worth the patience.
Scenario 3: Old technology
This is the scenario when you are welcome to redesign anything you wish. If your website was built on outdated technology, if it is not displayed properly in modern browsers, if it does not display on mobile devices — those are perfectly good reasons for a complete redesign and changing the whole concept.
Scenario 4: Not compatible with mobile
If your website does not display properly on mobile screens, you are probably losing a good deal of customers. It is a common knowledge already that users are often searching for goods and services on their smartphones and tablets, without a computer. To get access to this part of your target audience, be sure to make your website responsive or mobile-friendly. Another important benefit of being mobile-friendly is getting better ranking in Google.
What actions should be taken? If your website is not responsive, you do not need a complete redesign. You can simply make your existing website mobile-friendly, thus saving time and money.
Scenario 5: New message
It could have happened for a number of reasons, but your website does not convey the right message. In this case, you really need to conduct a redesign or even a rebranding. So, put up your sleeves —a lot of work awaits you.
Scenario 6: It does not feel right
It may also happen. Your website looks good, it has good organic traffic, and it is responsive, provides good conversion rates, well-ranked, and based on the newest technology. Still, you don't like it. It just does not feel right. Well, such reason is probably not the best one to undertake a website redesign. Our recommendation is: do not play with the fire and leave your website design as it is. If you are too eager to change something, make some minor changes which will not affect the website in general. In this case, a revolutionary redesign is obviously not at option at all.
To sum up
In some cases, radical redesign is what your business needs. In other cases, it is better to cut losses and make some minor changes. Such approach will save you time and money without endangering the achievements you already have!
Author:
James Ross
Viewed:
18 Views
Check Out All Of 's Blogs!
Comments:
Posted By:
James Ross
Location:
Orlando, Florida
Storeboard City:
Orlando, Florida
Status:
Hello. My name is James Ross. I am professional UX/ UI web and mobile designer working and living in beautiful Florida. I love designing and always find a unique approach to every project. I understand that nowadays web-design is not only about design itself, it is all about psychology and marketing technics as well. As soon as I realized that, I started creating pages that attract, sell and inspire users to return again and again.My experience taught me that a professional designer must work in partnership with reliable PSD to HTML conversion developer or service. That way you can always deliver to your client responsive, ready to use HTML page. Which is great, as client receives the full service from you and will most likely return with new project again. I'm working with different companies and freelance developers, however, in the last couple of month, I came to understanding that i enjoy working with codcow.com team the most.



2,272 Days Ago