| | |
| --- | --- |
| Protocol Conversion, Why it is so Important in IoT Field | Posted: June 9, 2023 |
In order to establish interoperability across various protocols, protocol conversion refers to the act of changing a device's communication protocol into a protocol acceptable for another device. Protocols are usually in the form of software. The data format, data rate, etc. in one network are converted by a gateway hardware, for instance, into a protocol appropriate for another network.
The network uses a variety of protocols that are used across numerous industries. The main protocol conversion messages involve the conversion of data messages, events, commands and time synchronization.
Hardware for Protocol Conversion
Every network has a unique way of exchanging information. If two networks cannot detect one other's communication channels when they need to communicate with one another, they will be unable to do so. At this point, the two networks will "translate" via a protocol conversion gateway.
Protocol conversion is a kind of mapping, which is to map the sequence of sending and receiving information (or events) of a certain protocol to the sequence of sending and receiving information of another protocol. The information that needs to be mapped is important information, so the protocol conversion can be regarded as the mapping between the important information of the two protocols. The so-called important information and non-important information here are relative terms, and should be determined according to specific needs. Selecting different important information for mapping will need different converters. Here we take industry IIoT gateway as an example:
Information sharing and data interchange between various devices are necessary for industrial communication, and the most often used communication ports of industrial control devices are RS-232, RS-485, and CAN. Different interface protocols affect how heterogeneous networks operate and communicate. Since information sharing is challenging, several interface devices can be networked via a multi-protocol industrial gateway converter to enable device cooperation. A broad range of protocol converters have been developed based on a number of communication interfaces and protocols; the main categories include E1/Ethernet protocol converters, RS-232/485/422/CAN converters, etc.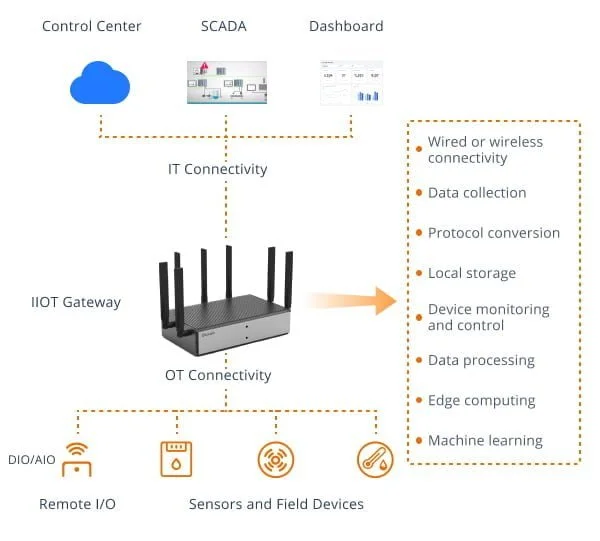 Key Technologies of an Gateway Hardware
Multi-standard interoperability and access capability
There are multiple technological standards in use today for process communication. ZigBee, Z-Wave, Bluetooth and other common sensor network technologies are commonly mentioned. These technologies lack system planning and interoperability since they were created primarily for one sort of application. Z.Wave, for instance, is primarily utilized in wireless smart home networks.
The gateway hardware must find a solution for the issue of realizing how multiple communication technology standards are interconnected and communicate with one another. R&D staff members create specific gateways for each standard, which are subsequently put into use via a common interface between gateways. To create comparable interface implementations, they can also make use of technical standards and common adaption layers.
Device Management Capability
The IoT gateway itself must perform a number of management tasks as an element connected to the network, including registration and login, authority, tasks, data, faults, status monitoring, remote diagnosis, parameter query and configuration, event processing, remote control, remote upgrade, etc.
The administration not only include the gateway device itself, but also the capability if managing each node in the subnet in order to implement the manageability of the whole network, getting data such as node identity, status, and attribute information, as well as remote wake-up, control, diagnostic, upgrading, and maintenance, for instance.
Final Words
Thousands of data nodes are dispersed across the Internet of Things ecosystem, and each node is continually updating its data. The entire dispersion of data information causes nodes to support various data transmission protocols, which makes data collecting and data query extremely challenging. It goes without saying that incomplete data collection will result in significant network overhead, make management difficult, and make it impossible to ensure transmission efficiency and security.
When several nodes and multiple protocols are linked to the IoT cloud platforms, the problem of poor efficiency and high complexity is resolved by the IoT gateway with multi-data protocol conversion. It supports a variety of protocols for device access and the uploading of IoT protocol data to the cloud platform, making it easier to promote and implement in industrial and urban IoT applications. It substantially eases user usage by including the device administration and configuration module.