Anderson Silva, Nick Diaz fail tests
Posted: February 4, 2015 @ 7:13 am
Featured Member
LAS VEGAS -- Former UFC middleweight champion Anderson Silva, widely considered the greatest fighter of all time, has tested positive for anabolic steroids.
The UFC announced Tuesday that Silva, 39, had tested positive for the steroid drostanolone during a random out-of-competition test administered by the Nevada State Athletic Commission on Jan. 9. NSAC chairman Francisco Aguilar confirmed the positive test to ESPN.com.
[+] Enlarge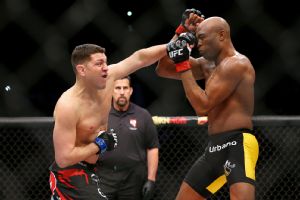 Ed Mulholland for ESPNAnderson Silva, right, tested positive for steroids in a sample taken prior to his UFC 183 match against Nick Diaz, left, who himself tested positive for pot after the fight.
ESPN.com obtained a copy of Silva's lab report, which indicates he also tested positive for a second steroid, androstane.
Silva (34-6) returned from a 13-month layoff last weekend to defeat Nick Diaz via unanimous decision at UFC 183 at the MGM Grand Garden Arena. The NSAC said results of the prefight test were not available until Tuesday morning, which is why the fight was not canceled.
Additionally, Aguilar informed ESPN.com that Diaz (26-10) tested positive for marijuana metabolites during a postfight drug test. Aguilar said exact results were unavailable but confirmed Diaz's results were above the allowable limit of 150 ng/ML.
"On Feb. 3, 2015, the UFC organization was notified by the NSAC that Anderson Silva tested positive for drostanolone metabolites on his Jan. 9 out of competition drug test," the UFC said in a statement. "UFC's understanding is that further testing will be conducted by the commission to confirm these preliminary results.
"Anderson Silva has been an amazing champion and a true ambassador of the sport of mixed martial arts and the UFC, in Brazil as well as around the world. UFC is disappointed to learn of these initial results."
According to Aguilar, Silva was tested on Jan. 9, Jan. 19 and Jan. 31 -- all blood and urine tests. Results of the out-of-competition Jan. 19 test are currently unavailable.
Each fighter faces a potential fine and suspension. It marks the third marijuana-related offense for Diaz.
The NSAC's next scheduled meeting is Feb. 17. Silva and Diaz likely will be temporarily suspended at that time. Full disciplinary hearings will be scheduled for each.
ESPN.com reached out to Silva's and Diaz's camps for comment. Neither has responded at this time.
Diaz, 31, was suspended for six months in 2007, after he tested positive for the active ingredient in marijuana, THC, following a win over Takanori Gomi in Las Vegas. In May 2012, Diaz received a one-year suspension from the NSAC after again testing positive for marijuana metabolites following a loss to Carlos Condit at UFC 143. The Stockton, California, native has publicly said he is a registered medical marijuana user within his home state for attention deficit hyperactivity disorder.
Silva had never before tested positive for a banned substance in his nearly 18-year career.