Best Places To Eat In Bethesda MD
Posted: May 29, 2020 @ 9:23 am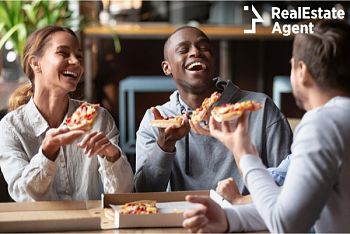 If you ever visited another city, that had that "wow factor", at first glance you were amazed by what you were seeing and feeling for the first time. Our beautiful country holds a lot of cities that are unique in their own way, and are like a treasure waiting to be discovered. As soon as you find it, you are excited beyond belief.
There are many things that might trigger such a reaction and it's different for many people. Maybe it was that evening stroll around the downtown area, or maybe you liked the friendly residents of the city. You probably had the best night out ever, or you absolutely love the attractions featured in the area. It could be parks or green areas that made the place feel so vibrant and lively, or it could be the best shopping experience you ever had.
For many people, a place that could impress with their food definitely had that "wow factor". The culinary experience for some people is so memorable that it will forever remain in their hearts and it will make them want to come back. If you are in that boat, we have great news for you! The city of Bethesda MD is well known for its wide range of cuisine from French to Latin American or Mediterranean to contemporary American cuisine.
Considered to be one of the best places to dine in Montgomery County, the downtown area of Bethesda MD has everything you would expect from a world-class dining experience. Here are some of the best places to eat in Bethesda MD.
Raku Asian Dining
You don't need to go on the Asian continent to have great sushi or great Asian cuisine in general. The Raku Asian Dining is a restaurant located in downtown Bethesda, that celebrates sushi, Asian style dining, and sake. With Bento boxes, you get the best bang for your buck along with a wide range of teriyaki marinated meats with noodles or rice.
The option you have in terms of menu items is plentiful and sake stands for alcohol in Japanese or more specifically rice wine. However, be careful because it could really pack a punch since it is a strong alcoholic beverage. Other menu items include soups with shrimp & dumplings for $6, or Yellow Tomato Gazpacho for the same price.
You can opt for their noodle soup which contains the Tokyo Bashi Broth and you choose to top it with tofu and vegetables or meats like beef, shrimp, chicken. Their seafood selection ranges from shrimp, prawn, and mussels to seaweed, microalgae and tuna, salmon, eel, and many others. If you love Asian cuisine then Raku Asian Dining is definitely one of the best places to eat in Bethesda MD.
Ruth's Chris Steak House
If you love that juicy and tender, filet mignon cooked to your desired temperature, then you should definitely try Ruth's Chris Steak House. Not only is the fillet the star of the show but, the restaurant offers a variety of cuts of meat from which to choose. This restaurant is a well-known place for its sizzling beef and if you are a steak lover you will not be disappointed with the quality and the standards that the restaurant holds.
The interior design of Ruth's Chris Steakhouse compliments the food perfectly with dark wood furnishings along with soaring ceilings that are vault-like. Perfect for large groups of people as well as intimate meals for two, Ruth's Chris Steakhouse can accommodate anyone. Here you will be immersed into the tradition of American steaks and you will have a beefed-up journey like never before.
You can choose from petite filet to cowboy ribeye and you even have the option to share a porterhouse steak. Having these cuts served on a plate heated up to 500°C will ensure that your steak keeps cooking until it is to your liking. This restaurant has prices that range from $8 up to $70, but it's expected,you are having steak after all. This is definitely one of the best restaurants in Bethesda MD and you should not miss out on this one.
Woodmont Grill
Woodmont Grill is part of the Hillstone Restaurant Group, but it really keeps its independence and authenticity by being a unique restaurant in Bethesda MD. Why is it unique? Woodmont Grill is not only praised for its great cuisine but it is also known for its fresh baked goods as well as live music in the evening. These are just a couple of reasons why Woodmont Grill is so beloved and celebrated.
Some of their signature dishes include jumbo crab cakes, pan-seared salmon, or roasted chicken with an apricot glaze. It is a vegetarian-friendly restaurant and they also have vegan options as well as gluten-free options. Grill's menu focuses mostly on traditional American cuisine, but they also have sushi options for those interested.
People love the atmosphere, with fast service and good food that is reasonably priced. Their dessert menu is limited but if you love a perfectly executed key lime pie or hot fudge then you will be more than happy for what you get. This is a cozy restaurant with great service and food, therefore it deserves a spot on our list of the best places to eat in Bethesda MD.
Le Vieux Logis
One of the most charming French restaurants in Montgomery County is located in downtown Bethesda MD. Le Vieux Logis or translated it would mean The Old Lodge has made a name for itself in the area by serving great food with an old-world charm. With a previously received award for one of the most beautiful spots, the restaurant has managed to enhance the setting with natural elements in the urban area of downtown Bethesda MD.
Some of their signature dishes include duck a l'orange which is the restaurant's own interpretation of the dish as well as slow-roasted beef short ribs. If you are looking for a vegetarian option then you can go for their vegetarian extravaganza which is a mix of colors from different vegetables and grains, all on a plate.
Have a taste of their portobello burger with a plump mushroom roasted to perfection or the huge portion of scallops served on a bed of risotto. You will definitely not regret coming to Le Vieux Logis since the culinary experience is going to be off the charts at one of Bethesda's best places to eat.
Conclusion
What is it not to love about the city of Bethesda MD when you have all your favorite attractions and entertainment along with great food. You will be very impressed with the service, standards and food quality held by restaurants in downtown Bethesda MD. Is that enough to convince someone to relocate here? We think it might be, and if that is the case make sure you get in touch with one of the best real estate agents in Bethesda MD in order to find a good deal for homes near your favorite food spots.
If you like this article make sure you share it with your family and friends on your social media accounts.
Author:
Theresa Hus
Viewed:
1,630 Views
Check Out All Of 's Blogs!
Comments: