Pros and Cons of Living in Bentonville AR
Posted: April 27, 2020 @ 9:55 am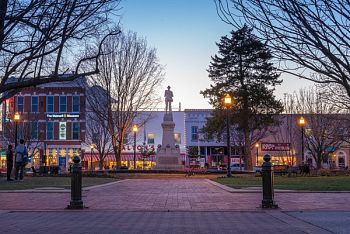 Nestled in the foothills of the Ozarks, there are many things to be said about the quiet town of Bentonville Arkansas. With great weather, a low cost of living, low average home prices and many more attractive qualities, there's no question that Bentonville is a great place to live. However, just like any other city, there are certain cons to living in Bentonville.
This shouldn't be seen as reflecting poorly on the city as a whole; after all, no one city can be the right place for everyone. Instead, this article is intended merely to give you a clearer, bias free view of the state of things in the city of Bentonville, so you know exactly what to expect if you're considering moving there.
In this article, we'll go over the various pros and cons of living in Bentonville, covering everything from real estate prices to job availability to crime rates. Hopefully, by the time we're done, you'll know exactly whether or not Bentonville is right for you. Without any further ado, let's get into it!
Pro: excellent job availability
First up on our list is how easy it will be for you to find a job in Bentonville. Bentonville is situated in one of the fastest growing regions in the country, and has seen tremendous growth over the past several years. What does this mean for you? Well, it means that jobs are plentiful and easy to come by!
Whether you are a certified professional or a lay worker, you'll soon find that Bentonville is a great place for job seekers. Certified skilled professionals such as doctors, lawyers and architects are always needed to feed the increasing demand created by the growing population. Lay workers will also have no trouble finding employment at any of the industrial giants that have made Bentonville the location of their headquarters.
Con: slow paced living
This one is a bit subjective, but it may be a turn off for some. For others it might be a pro, but whether it's a pro or con is up to you! The city of Bentonville is often described as being, for lack of a better word, boring. While there are plenty of things to see and do in the city, the calm, slow paced atmosphere of the town might be off putting to some. If you are the kind of person who likes frenetic, fast paced city life, you might want to keep looking.
Pro: low Cost of Living
On the other hand, the cost of living in Bentonville is exceptionally low, with rent prices far below average for cities of a similar size. Additionally, there are cheaper prices on virtually every essential product, from food items such as milk and eggs, to gasoline and general household items.
Another thing to keep in mind is Bentonville's temperate climate. With its relatively central location, Bentonville escapes most of the winter and summer extremes in temperature, making in-home climate control all the more inexpensive. Since heating and cooling account for the bulk of most people's monthly utility bills, you can expect to spend far less on these necessities in Bentonville.
Con: lack of public transportation
Another thing that might give you pause if you are considering moving to Bentonville is the lack of public transportation. While the city has a few bus lines and taxi companies, the public transportation system in this city is underwhelming at best. If you are thinking about moving to Bentonville, you'll want to make sure you have access to a car, and know how to drive.
Pro: exceptionally low crime rates
One of the biggest selling points of Bentonville is its low crime rates. The city boasts property and violent crime rates well below the national median, with excellent law enforcement and expansive crime reduction programs that do a great deal to combat deviance. Taking all these factors into consideration, it's safe to say that Bentonville is one of the safest cities in the entire state.
So how low are the crime rates in Bentonville exactly? Well, the incidence rate for violent crimes in Bentonville is a meager 2.07 per 1,000 residents, as compared to the national average of four per 1,000 residents. The property crime rate is also low, at just over half the national median of 24 incidents per 1,000 residents, at just 13.79 per 1,000 residents.
Conclusion
The city of Bentonville has its fair share of pros and cons that will be quickly recognized by any who move there. While there are certainly some downsides to living there, it's fairly evident that overall Bentonville is one of the best places to live in the state of Arkansas. From its excellent job availability to its attractive housing market, there are a lot of reasons to move there!
If you find yourself charmed by this beautiful city, why not take a look at some of the local real estate? By contacting one of the real estate agents in Bentonville AR, you'll be able to get a clear picture of just what makes this city tick, and whether or not it's right for you. Before you know it, you might be calling Bentonville home!
If you enjoyed this article, or would like to leave some feedback, let us know in the comments section below! We do our best to respond to each and every comment and we'll do our best to get back to you as soon as possible!
Author:
RealEstateAgent.com
Viewed:
599 Views
Check Out All Of 's Blogs!
Comments:
| | |
| --- | --- |
| Posted By: | RealEstateAgent |
| Location: | Hollywood, Florida |
| Storeboard City: | Hollywood, Florida |
| Phone: | (866) 495-4953 |
| Description: | Since 2003, RealEstateAgent.com has been connecting those seeking a real estate agent with the best and brightest in the field. Unlike many competitors, our real estate agent directory is kept up to date with contact information for the most credibl... |
| Website: | http://www.realestateagent.com/real-estate-directory |
| | |