How to set up the perfect office space at home
Posted: February 24, 2021 @ 4:39 pm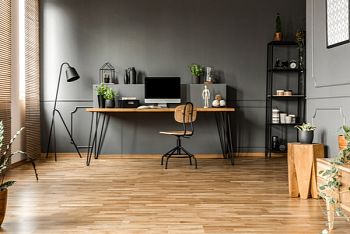 With the pandemic pushing many people to work from home, office space has become an essential component of our daily lives. You might think that remote work is as easy as working on the couch, in the backyard, or in bed. The truth is that most people find it to be way more productive to work from a "proper" workstation.
With the evolution of technology, almost any job can move in a remote work environment. Even closing a real estate transaction from a distance is possible with virtual tech. However, you need a proper workspace inside your home if you want to be productive and complete your daily tasks. Having a home office space is excellent in many ways, and you have a lot of freedom and choices when setting it up.
Creating a home office space the right way can increase your productivity, boost your concentration and help you achieve better results overall. From location, design, and space, everything can have a positive impact on your workflow. Therefore, here are some tips on setting the perfect office space at home.
Choosing the space
Unless you bought a home with an office space already in it, you would most likely have to take away some space from other rooms in order to create your home office. If the space you have is limited, you will have to be creative. Some home office spaces were converted from large closets by removing clothes racks and installing electrical connections.
However, some people spend quite a lot of time in their home office and in this case you might want to consider a better view and more room. Identify less frequently used space inside your home, such as a dining area or guest room, and consider remodeling it into a proper workspace. Using a small desk with drawers, a computer, and a printer is not very space consuming; therefore, you can easily fit everything behind closed doors and set up the perfect work from home environment.
Repurposing an entire room for your home office might not be ideal, and not many people have that kind of freedom in their home. You can always use part of your kitchen table as your office space - if you don't mind packing up your office after every meal. Otherwise, use the space you have creatively. Unused corners in larger rooms that are not so frequently used might be the perfect place to set up your workspace. Some people managed to create a workspace under the stairs, and with a bit of creativity, you could convert any space into a home office.

Find your comfort
It can be tempting to grab a chair from the dining area and use it in your home office. However, sitting for long hours at your desk will not be a very comfortable experience. That is why building a home office requires you to prioritize comfort. Without proper back support from your chair, you could quickly get into posture problems; therefore, consider buying an ergonomic office chair that offers adequate support when sitting for long hours.
With a good ergonomic chair, you should be able to adjust it to your liking and in such a way that you avoid back or neck strain. Another thing that would help support your neck and eyes has to do with monitor adjustments and placement. You will have to experiment a bit to find the right position for maximum comfort. As a rule of thumb, make sure your spine stays in a neutral position at all times, the screen is at or slightly below eye level, and have your screen at least 20 inches away from your eyes or even further away if you have a wider screen.
Good lighting
There are many things to consider when choosing an office space for your business, and when you are creating a personal office at home, some of these principles still apply. Things such as adequate lighting are too often underestimated, and many people that build their home offices don't understand the importance of good lighting.
Ideally, you want to have enough indirect light to read or write papers or see physical objects. Overhead lighting is usually best, such as ceiling lamps. Good lighting also helps with comfort as it reduces eye strain if used properly. Install lighting over your reading area, behind you, or on the computer if you want to avoid reflection from the monitor.
If you install a lamp, avoid placing it in spots where you end up with competing light sources. Not everyone needs the additional lighting from a lamp, but if you do, place them in a way that doesn't create glare on the monitor screen. Monitors have options that allow you to dim or brighten the brightness to avoid eye strain. As a rule, try to adjust it so that the monitor's lighting intensity is a little brighter than your ambient lighting.
Consider setting up your workspace near a window as natural light can be the best lighting source and it can help boost your productivity, and motivate you in completing your tasks.
Brighten up your workspace
Lighting is not the only way to brighten your home office. Adding a few personal touches and color to the work environment can be a lovely addition to your home office. You don't need to go overboard with the design since you want to make it look as professional as possible. Add some style to your office with some patterns, window treatments, or maybe some furniture that suits your taste.
You can design your office space differently than the rest of your home and use the area as a way to escape by adding a different design that you would otherwise not want to have in the whole house. Think about office supplies that would enhance the aesthetics of your workspace. Things such as decorative baskets or cover boxes with attractive fabrics could be an excellent addition to your home office.
Wall space can be filled with artwork or photos. Colors can have a significant impact on your mood and your productivity while you're working. If you think about adding a lamp near your workspace, choose a light bulb that emanates a different color, or maybe paint your wall with a particular shade that boosts your productivity and sets you in the right mood for work.
Conclusion
With the increasing need for office space at home, many think about integrating a workspace into their living environment. Setting up the perfect office space at home is easier than you think, and if you have the right idea, you can easily recreate the work environment you are used to in an office setting at home. Not everyone is willing to find a real estate agent in order to relocate to a new home that already has office space included. Hopefully, with the tips and ideas presented in this article, you will find the inspiration to set a workspace in your home without too much trouble.
If you enjoy our content, make sure to share it on all your social media platforms to let everyone know how they could set up a perfect office space at home.
Author:
Theresa Hus
Viewed:
677 Views
Check Out All Of 's Blogs!
Comments:
| | |
| --- | --- |
| Posted By: | RealEstateAgent |
| Location: | Hollywood, Florida |
| Storeboard City: | Hollywood, Florida |
| Phone: | (866) 495-4953 |
| Description: | Since 2003, RealEstateAgent.com has been connecting those seeking a real estate agent with the best and brightest in the field. Unlike many competitors, our real estate agent directory is kept up to date with contact information for the most credibl... |
| Website: | http://www.realestateagent.com/real-estate-directory |
| | |