Global Emergency Exit Signs Market
Posted: October 3, 2021 @ 7:36 pm
Market Introduction
The global emergency exit signs market was valued at US$ 965.4 Million in 2019 and is projected to reach US$ 1,305.7 Million by 2027 expanding at a CAGR of 4.2% during the forecast period, 2020-2027. Emergency exit signs products are primarily used for safe evacuation by providing right direction in case of emergency. An emergency exit sign is a display in a public facility, such as a building, aircraft, or boat, which denotes the location of the nearest emergency exit in the event of a fire or other emergency. Many applicable codes such as fire, house, health, or safety require a permanent illumination of the exit signs. The modern emergency exit signs come with different features such as materials, colors, types, and bulb types. These sign boards are also available with pictograms that have been approved by government bodies.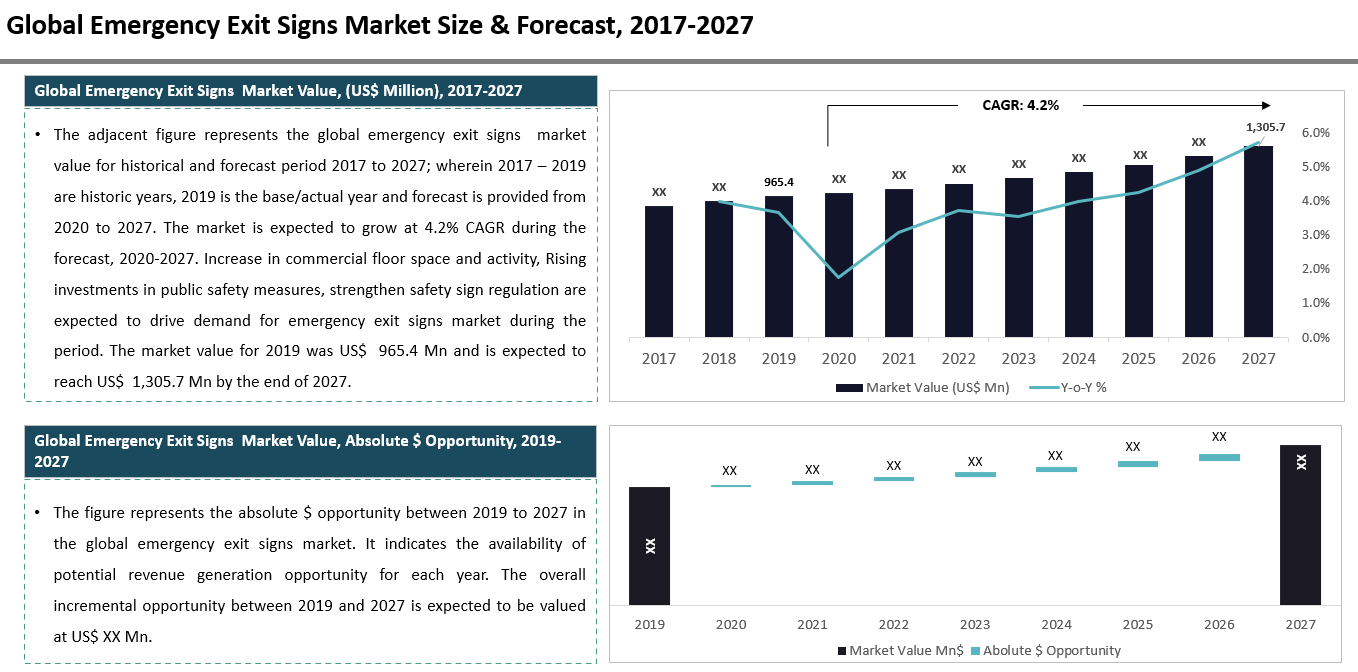 Market Dynamics
Public safety and security functions keep citizens, communities, and public spaces safe with fast response, improve operational efficiency, and reduce costs. Factors increasing investment in public safety are the high demand for public safety and protection in exit signs applications, increasing IoT implementation in public safety and security across the globe, and growing number of providers of public security solutions. Hence, increasing investments in public safety boosts the growth of the emergency exit signs market. Moreover, Rising investments in IT-based solutions and services are increasing commercial building globally. Growing number of startup companies are increasing the number of commercial building. These companies concentrate on the employee's safety measures to provide better facilities in the company premises to improve employee work output. This, in turn, increases the demand for emergency exit signs for emergency situations in the office.
Definition & Outlook – By Type
Electrical Exit Sign - Electrical exit signs provide red or green EXIT lighting with LED (light emitting diode) light strips. LED exit signs are preferred if the electricity is readily available. Basic LED exit signs feature a thermoplastic white or black housing and can be used in single or double-sided applications. All LED exit signs feature a battery backup device that holds the exit sign on when a power outage occurs. Aluminum LED exit signs are electrical exit signs that require less than 5 watts of electricity, which is compatible with LED technology and have a lifespan of 8 to 10 years. Aluminum LED exit signs are considered budget friendly, in terms of electricity usage, and have considerable life span as compared to other electrical exit signs. Aluminum exit signs are durable and appealing for industrial application. Electrical exit signs include both AC powered and battery powered exit signs in the scope.
Non-electrical Exit Sign - One form of non-electric signs of exit shine in the dark by absorbing energy from the sunlight in day time. Another form of non-electrical exit sign, called self-luminous, uses flickering hydrogen gas called tritium to create EXIT illumination. Non-electrical exit signs are becoming increasingly common due to their ease of installation, long service life, and lack of operating costs. The non-electrical exit sign is popular for applications where electrical power is not available for emergency exit signs. These signs have an estimated lifetime of 25 years. The second most preference is for outdoor applications is the non-electrical auto-luminous exit signs. Since they are self-powered by tritium gas, they can be used outdoors and can withstand harsh conditions. These exit signs are an attractive option for outdoor sign applications, as they can be installed within minutes and require less maintenance. The non-electrical exit sign does not require other testing or maintenance after installation.
On the basis of type, the global emergency exit signs market is bifurcated into emergency exit signs, and non-electrical exit sign. The electrical exit sign segment holds a major share of the market due to its high-grade acrylic panels, which easily attach to the ceiling or wall. These signs are visually appealing and easy to install. LED exit sign boards are a preferred option for indoor applications such as shopping centers and hospitals. The non-electrical exit sign segment is projected to expand at considerable CAGR owing to its exit signs comes in sealed fiberglass and are able to withstand harsh weather conditions such as snow, sleet and rain, therefore, the demand for non-electrical exit sign is high for outdoor applications. Increasing outdoor applications for public facilities are changing the demand dynamics from electrical exit segment to non-electrical exit signs due to the several benefits offered by non-electrical exit signs over electrical exit sign such as durability, efficiency, low-energy consumption, and inexpensive, in terms of lifespan.
Definition & Outlook – By Application
Residential

- A residential area is an establishment used for housing, in contrast to industrial and commercial areas. The construction of housing can vary considerably between residential areas. These include single family housing, residential multi-family housing, or mobile homes. Residential zoning can allow for some services or job opportunities, which operates on small scale. The land used in residential areas are either of high or low density according to the permissions allotted to the particular area. Residential zoning typically requires a smaller floor area ratio (FAR) than the zoning for industry, commercial or industrial / manufacturing. This area can be substantial or small. The residential area are required to maintain a safe zone with the emergency exit signs in every building as during the emergency situation such as fire, electric short circuit, or gas cylinder explosion the people can move quickly an securely to the safe place allotted.
Commercial

- Commercial areas in a city are neighborhoods or communities that consist mainly of commercial buildings such as downtown, central business district, financial district, main street, shopping street, or shopping center. Commercial operations within cities include the purchase and sale of products and services in retail companies, wholesale purchase and sale, financial institutions, and a broad range of uses generally known as business. The commercial activity typically occupies a relatively smaller amount of land as compared to the industrial land. The IT services building comes under the commercial area. Companies here provide employment, promote money circulation, and fill many other functions that are important to the community, such as public gathering and cultural events. This, in turn, requires the safety of the employees and consumers visiting these; therefore, emergency exit signs are mandatory in these areas.
Industrial

- An industrial area, also known as industrial estate, trading estate, or manufacturing areas, is a zoned area which is developed for industrial purposes. An industrial area can be seen as a more heavyweight version of a commercial area or retail area that includes offices and light industries, rather than heavy industries. Industrial areas are typically situated on or outside the outskirts of a city's main residential area, and are generally provided with good access to transportation including road and rail. This area requires major safety and security provisions due to the high risk of fire, short circuit, and explosion during manufacturing of the products. Production units need to follow certain rules and regulations for emergency situation, in which emergency exit signs are a must.
Public Facility

- Public facilities are characterized as institutional designed for human needs, such as health, education, protection, leisure, and worship. Typical public services include schools, hospitals, and police stations. Public facilities contribute to the quality of life in the community, for individuals and groups. Governments provide easy and effective facilities, a sense of identity and a description of the country's visual character. Each level of government, other public, and quasi-public agencies provide public facilities and services. Often more than one of these agencies jointly provide public services and facilities to reduce costs. Currently, the number of people availing these benefits of public facilities is huge; therefore, the safety and security increases in these public facilities. This, in turn, requires large number of emergency exits signs for the safety of the people visiting these public facilities during emergency situations.
On the basis of applications, the emergency exit signs market is segmented into residential, commercial, industrial, and public facility. The public facility segment accounts for a major share of the market and is anticipated to expand at a significant CAGR during the forecast period.
The commercial segment was valued at USD XX Mn in 2017 and is anticipated to reach USD XX Mn by the end of year 2027. The use emergency exit signs in industrial sector is growing due to subsides which are provided by insurance company and government initiative to protect the people working in the industry. The residential segment is expected to growth at a higher CAGR of XX% during 2020-2027 to reach at USD XX Mn by the end of the year 2027.
Author:
Alex
Viewed:
13 Views
Check Out All Of 's Blogs!
Comments:
Posted By:
Robert Downey
Location:
Ontario, California
Storeboard City:
Adelaide, California
Status:
I am a professional freelancer in the digital marketing and market research industry. Check out daily new blogs about the market to keep yourself updated.



60 Days, 6 Hours Ago