Global Antiseptics and Disinfectants Market
Posted: October 3, 2021 @ 7:32 pm
Market Introduction
The global antiseptics and disinfectants market were valued at US$ 9.4 Billion in 2019 and is projected to reach US$ 17.8 Billion by 2027 expanding at a CAGR of 8.2% during the forecast period, 2020-2027. Antiseptics and disinfectants products are primarily used for eliminating viruses, bacteria, fungi, and other disease-causing germs on the human body and non-living objects. According to the National Healthcare Safety Network (NHSN) Surgical Site Infection Surveillance in 2018, 11% of all deaths in intensive care units were reported to be associated with surgical site infections. This, in turn, has increased the demand for antiseptics and disinfectants in hospitals and clinics.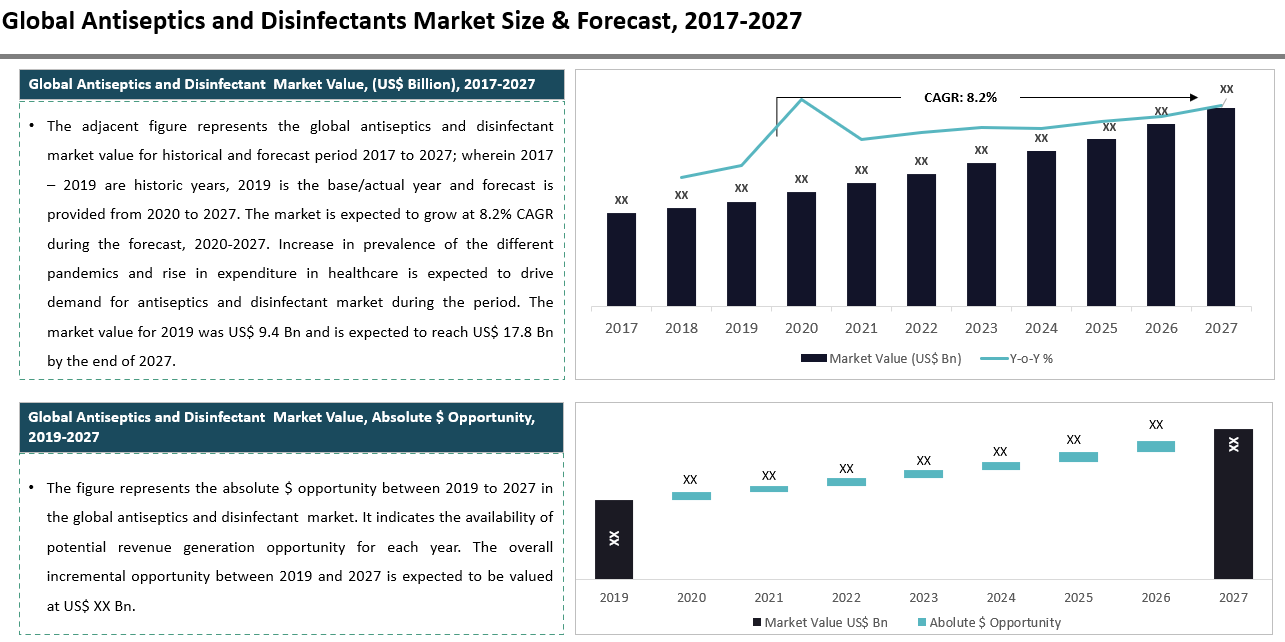 Market Dynamics
Prevalence of hospital-acquired infections, rising consumer health awareness & healthcare expenditure, technological improvements in manufacturing of antiseptics & disinfectants are considered as the primarily drivers the market for higher sales. However, stringent regulations related to the usage of antiseptics & disinfectants and negative perception about the use of chemical disinfectants are the major barriers for market growth. Though respective country government campaigns & awareness programs regarding home and personal hygiene are projected to create growth opportunities for market players.



Definition & Outlook – By Product





Antiseptics -

An antiseptic is a chemical agent that slows or prevents micro-organism development on the body's external surfaces and helps to prevent infections. Antiseptics can be distinguished from antibiotics which kills micro-organisms within the body, and from disinfectants that kill micro-organisms present on non-living objects. Antiseptics; however, are called skin disinfectants.



Disinfectants

- Disinfectant agents are products used to eliminate dangerous microorganisms such as bacteria, viruses, or fungi from any non-living surfaces. Many disinfectants are non-specific and can act against a variety of microorganisms through their action.

On the basis of product, the global antiseptics and disinfectants market is bifurcated into antiseptics and disinfectants. The antiseptics segment is estimated to hold a major market share in the global market owing to growing health & skin concern among consumers. Increase in prevalence of the different pandemics such as SARS, swine flu, ZIKA, and coronavirus over the last few years is increasing the demand for such antiseptics across the globe. The global disinfectants market is anticipated to grow highest during the forecast owing to growing consumer focus for home cleaning & hygiene products. Online sales channels are expected to see a robust demand for disinfectants sales across the globe owing to high consumer inclination towards online sales.

Definition & Outlook – By Application
Enzymatic Cleaners

- Enzymatic cleaners produce enzymes that help break down neutral pH soil particles (usually pH 6-8). Enzymatic cleaners have different types of enzymes, such as proteases, amylases, and lipases that break down different types of soil particles. All enzyme types belong to the class of compounds known as proteins. Proteins and enzymes are complex molecules composed of amino acids bound together by peptide bonds.



Medical Device Disinfectants

- A general-purpose disinfectant is a germicide that is intended to treat non-critical surfaces of medical devices and equipment. A general-purpose disinfectant can be used before terminal sterilization or high-level disinfection to pre-clean or decontaminate essential or semi critical medical devices.



Surface Disinfectants

- Surface disinfectants are chemical products often use for killing germs on surfaces. It is known as a method to inactivate pathogens on inanimate surfaces.



Based on applications, the global antiseptics and disinfectants market is classified into enzymatic cleaners, medical device disinfectants, surface disinfectants, and others. The medical device disinfectants segment is projected to constitute almost half of the of the market in 2027, as antiseptics & disinfectants help to maintain hygiene while using medical devices.



The enzymatic cleaners segment is expected to gain XX BPS points during forecast period 2020-2027 respectively. The medical device disinfectants segment is expected to lose XX BPS points during forecast period respectively. The medical device disinfectants hold the major share due to its aggressive use in the healthcare industry to check pandemic infection in different regions.
Author:
Alex
Viewed:
14 Views
Check Out All Of 's Blogs!
Comments:
Posted By:
Robert Downey
Location:
Ontario, California
Storeboard City:
Adelaide, California
Status:
I am a professional freelancer in the digital marketing and market research industry. Check out daily new blogs about the market to keep yourself updated.



59 Days, 16 Hours Ago