Prince William scheming on hip hop throne with new single 'Ode to G-Lavish'
Posted: July 15, 2016 @ 1:45 pm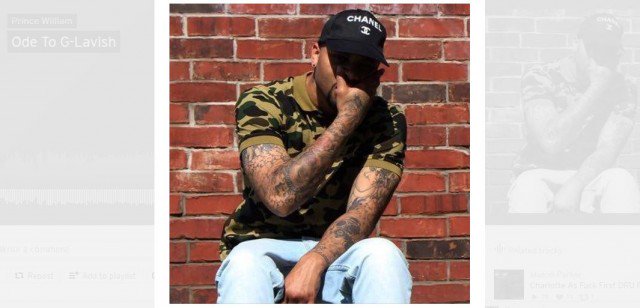 His latest single 'Ode To G-Lavish' is a laid back track that describes his outlook on his present life. The track is packed with his signature deep lyrics and adept flow, showing the same emotion and drive he had when he first started with his previous artist name "G-Lavish."

Explaining the motivation behind it: 'After recording the record, it was secretly entered in a competition by my engineer Chris Macek (worked with the likes of Kendrick Lamar and Travis Scott) and garnered much attention. I wasn't expecting the track to have that much an effect as it was one of the last songs I recorded for my project "911 Flame." It came about naturally working my previous job as a Nordstrom cashier. I would stand around at work and scheme different plans to be globally recognized, thus coming up with the theme of the track.'
Stream the single here on Soundcloud:
https://soundcloud.com/glavish/ode-to-g-lavish
Prince William's inspiring self-confidence and rhymes are likely to appeal to fans of artists like Jay-Z, Childish Gambino and J Cole.
A highly self-motivated artist, Prince William has started a music career through his own determination and grit, setting up his very own record label Lavish Living Ent.
He explains the source of his drive: 'When I decided to start making music, I called lots of old friends from Elementary all the way to High school and they all (exaggerated with "all" but pretty damn close) dismissed me and that helped me develop my "self-inspiring" attitude and I also learned to depend on myself much more than the average person.'
Prince William has always seen himself as an underdog. Upon starting a career in rap he was told by a peer "I don't wanna hear music about your problems, if I wanted to hear about problems I would've stayed home and looked at bills. This is not the rap game, I want to see girls shake their asses and music I can dance to."
Eager to continue with his vision and keep making the socially conscious hip hop that drove him, he has since proved his critics wrong by performing at SXSW and scoring radio airplay from Kiss FM phoenix and an interview with KTSU Houston. He was also recently interviewed by Hip hop Weekly.
Watch interview at Hip Hop Weekly:
http://www.hiphopweekly.com/views-from-the-h-live-direct-with-prince/
Links:
https://soundcloud.com/glavish
https://twitter.com/PrinnceWilliam
Author:
Kat Dunn
Viewed:
68 Views
Check Out All Of 's Blogs!
Comments: