Review IT Smart Air Purifier S130 Terbaru
Posted: November 16, 2021 @ 5:10 am
Mungkin belum banyak yang familier dengan merek IT karena merek ini masih terbilang baru di Indonesia. Namun dalam waktu yang singkat, IT telah menggelontorkan banyak produk teknologi termasuk di antaranya IT Smart Air Purifier S130.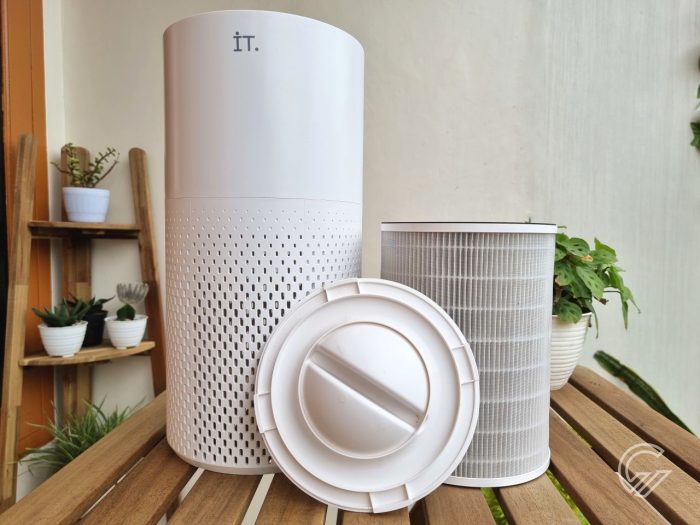 Untuk sebuah produk air purifier perdana dari IT, air purifier ini terbilang cukup lengkap fiturnya dan ditambah lagi harganya ramah dompet. Sementara itu, kamu bisa tahu juga cara delete akun Gmail untuk menghapus akun gmail baik melalui hape maupun pc.
IT Smart Air Purifier S130 sudah menggunakan filter HEPA yang dikombinasikan dengan sinar UV-C untuk membersihkan polutan di udara. Air purifier ini juga memiliki fungsi pintar yang dapat dikontrol melalui handphone Android maupun iPhone.
IT Smart Air Purifier S130 tergolong memuaskan fitur dan performanya apalagi melihat harga yang ditawarkan. Filter penggantinya pun cukup murah dan bisa dibeli dengan mudah. Sayang beberapa fitur terlihat kurang dipoles.
IT Smart Air Purifier S130 tampil dengan bentuk silinder dan ukuran yang ringkas. Air purifier ini tidak lebih tinggi dari lutut orang dewasa dan lebarnya pun selabar telapak tangan saya. Beratnya juga ringan sehingga mudah untuk dibawa ke mana-mana.
Air purifier ini menggunakan material plastik dengan warna putih dan finishing matte yang mana tidak terlihat mencolok ketika diletakkan di dalam rumah. Ketika diraba material plastiknya kurang terasa premium dan di beberapa area terlihat bagian sambungan plastik yang agak kasar.
Pada bagian atasnya terdapat panel untuk mengontrol air purifier ini dan lampu indikator yang menunjukkan status pengoperasian air purifier-nya. Terdapat juga lubang pembuangan udara yang diproteksi oleh kisi-kisi.
Di bagian belakangnya terdapat selot kabel listrik dan sensor kualitas udara. Sayangnya tidak ada kejelasan sensor ini mendeteksi partikel debu di ukuran apa.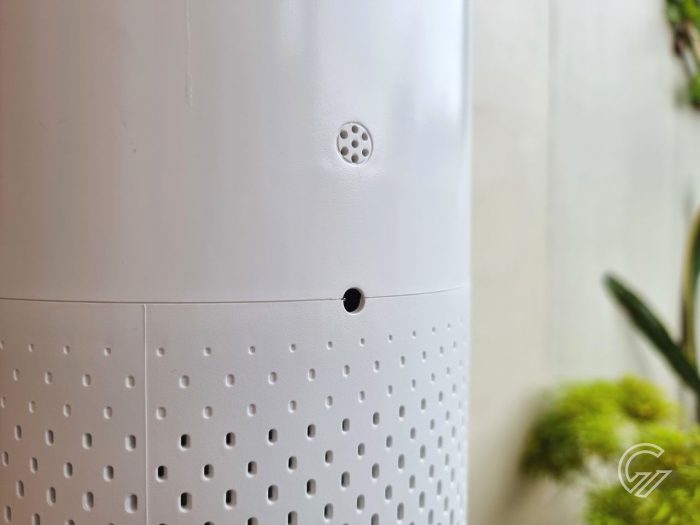 Di bagian bawah air purifier terdapat lubang-lubang untuk jalur masuk udara yang akan dibersihkan dan juga ada pegangan yang bisa diputar untuk mengakses filter di dalam air purifier-nya.
IT Smart Air Purifier S130 menggunakan filter yang terdiri dari 3 bagian yaitu pre filter untuk menyaring partikel berukuran besar, HEPA filter untuk partikel kecil berukuran hingga 0,3 mikron, dan karbon aktif untuk menyerap bau tidak sedap dan gas berbahaya.
Di sisi efektivitas pembersihan udara, IT Smart Air Purifier S130 memiliki Laju Suplai Udara Bersih atau CADR sebesar 130m3/h. Kasarnya produk ini cocok untuk ruangan dengan luas sekitar 16m2.
Dibandingkan dengan beberapa air purifier yang telah saya ulas sebelumnya seperti Xiaomi Mi Air Purifier 3C, CADR dari IT Smart Air Purifier S130 ini jauh lebih kecil.
Air purifier ini lebih cocok digunakan untuk membersihkan udara di satu ruangan saja, bukan di area yang luas atau untuk satu rumah kecil. Untungnya dibalik itu IT Smart Air Purifier S130 tergolong hemat listrik dengan daya yang dibutuhkan hanya 23W.
Satu fitur menarik yang jarang ditemukan di IT Smart Air Purifier S130 adalah adanya lampu UV-C di dalamnya untuk membunuh bakteri dan virus di udara. Dan bagi pengguna Instagram kami juga merekomendasikanmu ulasan mengenai cara dark mode Instagram android agak tidak pedih dimata.
Ketika dinyalakan, air purifier ini akan otomatis bekerja di mode kecepatan kipas tinggi yang mana sangat berisik. Kecepatan kipasnya dapat disetel untuk otomatis menyesuaikan kualitas udara di sekitar dan bisa juga lebih senyap dengan mode Sleep.
Selama air purifier-nya aktif, akan terlihat lampu indikator di bagian atas air purifier yang menunjukkan kualitas udara. Jika lampunya berwarna merah menandakan kualitas udara sekitar yang buruk dan jika warna biru keunguan menandakan kualitas udara baik.
IT Smart Air Purifier S130 dapat disetel untuk nonaktif setelah rentang waktu tertentu. Nah di sinilah letak antarmuka pengguna yang membingungkan.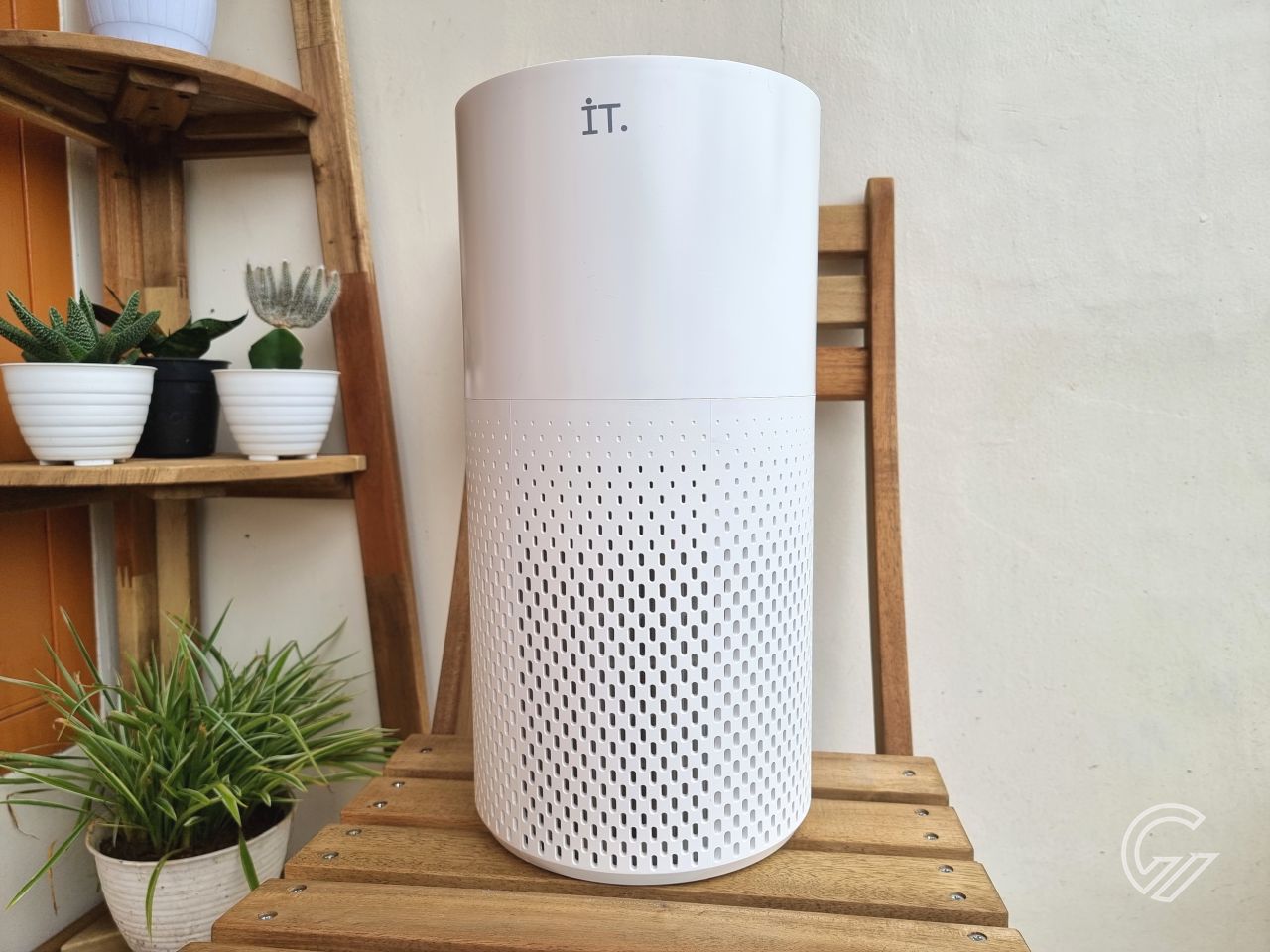 Pada tombol fisik di air purifier-nya, rentang waktu timer yang ditampilkan hanya 4 jam dan 8 jam. Tapi di buku panduan ada yang opsi 2 jam. Di aplikasi pendamping jika handphone-nya menggunakan bahasa Inggris malah tertera ada 1 jam tapi anehnya jika handphone disetel jadi bahasa Indonesia teksnya berubah jadi OFF.
Kesalahan penulisan ini membuat saya bingung di awal hingga akhirnya baru mengerti ternyata fungsi timer hanya ada di untuk lama waktu 4 jam dan 8 jam. Opsi satu lagi adalah untuk mematikan timer-nya.
Berbicara soal aplikasi pendamping, tersedia aplikasi IT Smart yang dapat diinstal di handphone Android maupun iPhone untuk mengontrol IT Smart Air Purifier S130 dan juga beberapa produk IT lainnya.
Di dalam aplikasi tersebut terdapat berbagai fitur bermanfaat seperti mematikan dan mengaktifkan air purifier, mengontrol kecepatan kipas, mengontrol fitur sinar UV-C, menyetel intensitas lampu indikator, hingga reset filter.
Ada juga fitur Child Lock untuk mengunci tombol-tombol yang ada di air purifier-nya. Fitur yang sangat bermanfaat jika memiliki anak atau hewan peliharaan di rumah.
Pengalaman saya sendiri beberapa kali kucing peliharaan saya tidak sengaja mengaktifkan fitur reset filter di air purifier saya yang lain karena fitur Child Lock-nya tidak aktif.
Satu fitur menarik lain adalah penjadwalan air purifier-nya untuk otomatis aktif maupun nonaktif di jam tertentu.
Aplikasi ini juga menampilkan informasi terkait air purifier-nya seperti mode kecepatan kipas yang digunakan, kualitas udara di sekitar, dan sisa waktu penggunaan filter sebelum perlu diganti. Juga kamu bisa tahu cara deactive Instagram dengan mudah dan benar.
Ada juga informasi terkait suhu dan kualitas udara di kota yang ditempati saat ini. Sayang deteksi lokasinya kacau, saya yang berada di kota Bogor malah terdeteksi di kota Tangerang. Ini diperparah dengan tidak adanya pilihan untuk menyetel kota secara manual.
Selain dapat dikontrol melalui aplikasi pendamping, IT Smart Air Purifier S130 bisa dikoneksikan dengan Google Home untuk mengontrol air purifier-nya lewat Google Assistant.
Sejauh ini saya berhasil menggunakan Google Assistant untuk mematikan dan menyalakan air purifier serta menyetel kecepatan kipasnya walau perlu agak menerka-nerka perintahnya.
IT Smart Air Purifier S130 tergolong memuaskan fitur dan performanya apalagi melihat harga yang ditawarkan yaitu hanya Rp1.499.000. Filter penggantinya pun cukup murah yaitu Rp299.000 dan bisa dibeli dengan mudah di situs eraspace.com.
Aplikasi pendamping yang disediakan juga bermanfaat untuk mengontrol air purifier-nya secara jarak jauh dan lebih detail. Sayang beberapa fitur yang ada terlihat kurang dipoles sehingga terkesan belum diuji coba secara penuh sebelum dirilis.
Sumber: https://gadgetren.com/2021/11/11/review-it-smart-air-purifier-s130-harga-fitur-152094/
Author:
aku dewe
Viewed:
7 Views
Check Out All Of 's Blogs!
Comments:
odhoraibnat zara https://www.fiverr.com/web_ashiq2019/design-wordpress-website-with-divi-avada-child-or-any-theme
66 Days, 16 Hours Ago
You Must Log In To Post A Comment. Sign Up - It's

Free

!