Indian Destination Wedding in Mauritius
Posted: November 7, 2022 @ 10:02 am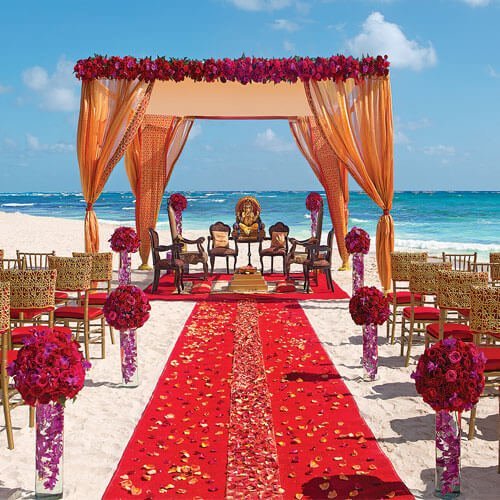 Is Mauritius The Perfect Place for Indian Destination Weddings?
Absolutely Yes! Mauritius is a go-to place when it comes to Indian traditional weddings whether it's a beach or villa wedding, delish Indian cuisine as the couple desires.
Indian weddings and rituals are described as very rich, exquisite, and beautiful. It is always a matter of pride for the brides and grooms when they look back on their lives. Each family has its own traditions, including everything from religious rituals to what types of food to serve.
Weddings are a special time in India, as they are for many people around the world. In India, however, weddings often stretch for days and involve many events. A wedding can include the engagement ceremony, which is called a "sagai." It may also include multiple religious ceremonies and celebrations, including a party or parties to honor the bride and groom's parents.
The wedding bells of many Indians ring out around the year-end when marriage proposals are made. Many of them use the opportunity for revelry with friends, family, and relatives.
Indian rituals start with a beautiful Haldi Ceremony or Mehndi Ceremony which is also accompanied by Traditional songs and dances. While many couples prefer to have separate Mehndi and Sangeet events, the majority choose to mix it up!
Then there comes the time for the Grooms party to dance before the gorgeous bride walks down the aisle to the exquisite Mandap with a beach backdrop or a luxury palace. You can also make your wedding special at Beachside where a special choir sings during the ceremony on special moments. The ceremony of the Beach Wedding is solemnized with a priest performing the wedding customs and blessing the couple. So many beautiful, beach resorts or private venues to choose from for this moment!
The next day the official Dulha and Dulhan are welcomed in lavish décor as anticipated by the couples for their reception.
Every single ritual can be beautifully executed in Mauritius.
How much does an Indian Destination wedding cost in Mauritius?
These figures are averages and can go up or down depending on couples' preferences, locations, venues, and much more
Stay with meals for 2 nights per person per night- 500 $ +
Decor & design charges- 2000 $ upwards
Entertainment & AV- 1500 $ upwards

Video/Photography- 1000 $ upwards

Miscellaneous/other charges- 1000 $
Please note that the accommodation charges differ a lot on certain dates and months. The above estimation is just for reference
Can you get legally married in Mauritius?
Almost all nationalities of the world can have a legal wedding here on the beautiful paradise island of Mauritius.
You will need to provide copies of your birth certificates, copies of passports, death certificate (if widowed), adoption certificate (if adopted) deed poll notice (if you've changed name), and your decree absolute (if divorced)). These must be sent to the Registrar of Births, Deaths, and Marriages in Port Louis four weeks prior to the wedding. Your birth certificates must be no more than three months old, so either have them re-issued before you leave, or send them as they are and they'll be re-issued and date-stamped in Port Louis. You must then get married within three months of this date.
For more details on Wedding venues in Mauritius Click here !
Author:
Alicia
Viewed:
21 Views
Check Out All Of 's Blogs!
Comments: