La 'magia' del tarot
Posted: October 13, 2020 @ 4:59 pm

Los intentos de definir los hechos que nos rodean, de comprenderlos y en numerosas ocasiones, de predecirlos, han dado origen a numerosos sistemas o metodos 'magicos' desde el principio de la historia de la humanidad. Mientras que con la evolucion de la ciencia en distintas civilizaciones a traves de la historia, se han podido determinar los motivos por los que algunos fenomenos ocurren, e incluso llegar a predecirlos, como en el caso de la meteorologia moderna, existen otros campos en los que la magia sigue siendo parte indispensable para dar una explicacion al hecho de hacer una afirmacion u otra sobre algo.
Todas las creencias se sustentan en una tradicion que viene de lejos, como es el caso de la astrologia, la numerologia o la cabala. Las cartas del tarot no son una excepcion, y en realidad la esencia de todo se resumen en la absoluta creencia de que el azar no es tal, sino que todo tiene un motivo. De este modo las cartas del tarot no ofrecerian un resultado aleatorio, sino que en realidad seria algo especifico para la persona que realiza la consulta y que quien 'lee' ese resultado debe ser capaz de interpretar.
Esa creencia va a su vez unida en que no todas las personas poseen esa capacidad de interpretacion, por lo que no es de extranar que quienes creen en este tipo de artes adivinatorias deseen ser atendidas por sitios que ofrezcan tarot sin gabinete, lo que les asegura recibir el trato directo con quien si es capaz de dar una interpretacion a las cartas.
Creamos o no en este tipo de adivinaciones, lo cierto es que el tarot del amor es sin duda lo mas consultado en todos los gabinetes, lo cual nos trae un rayo de esperanza al ver que la preocupacion de las personas sigue siendo, por encima de todo, el amor. Pero, ?que mas sabemos del tarot?
El tarot como fuente de conocimiento secreto
Segun las ideas esotericas, existen simbolismos hermeticos, gnosticos o cabalisticos en las cartas del tarot, ya que el temprano Renacimiento italiano, que dio origen al tarot, fue una epoca de gran actividad intelectual. Por tanto, el hermetismo, la astrologia , el neoplatonismo, la filosofia pitagorica y el pensamiento cristiano poco ortodoxo, que florecio entonces, pudieron dejar su huella en el simbolismo del tarot.
El misticismo de las civilizaciones antiguas
Vestigios simbolicos similares en el tarot llevaron a los investigadores posteriores a creer que el tarot proviene de culturas antiguas (egipcia o babilonica) y que este sistema es una coleccion secreta de sabiduria del pasado. El primer investigador conocido en esta area fue Court de Gebelin. En 1781 se publico su libro "El mundo primigenio", en cuyo ultimo capitulo se argumenta que el tarot se remonta a la tradicion egipcia. Sugirio que el nombre "tarot" se traduce del antiguo egipcio como "El Camino del Rey". Es posible que los mapas estudiados hayan sido creados por el propio autor, asi como la traduccion misma del nombre.
Primeras barajas
A partir de ese momento, la baraja fue vista como un misterioso sistema oculto, y el tarot de Marsella se convirtio en el modelo para la creacion de barajas, sobre cuya base se llevo a cabo la investigacion ocultista. En las primeras versiones del tarot, no solo habia simbolos astrologicos, letras hebreas, sino incluso numeros. Se trataba, por ejemplo, de la baraja Visconti Sforza, de 1428, realizada por el artista Bonifacio Bembo para la boda de Bianca Maria Visconti con Francesco Sforza. En 1470 aparecio una baraja de cartas de Mantegna, que representaba dioses clasicos y simbolos astrologicos.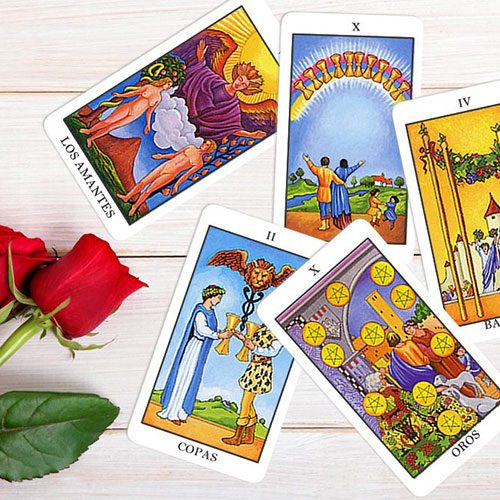 El primer tarotista 'profesional'
Aparte de los investigadores del simbolismo del tarot se encuentra el profesor de matematicas Aliette, que quedo muy impresionado por las ideas del libro de Court de Gebelin. Aliette, dedicandose a los estudios ocultistas, desarrollo su propio sistema de adivinacion mediante cartas. En la historia, se le conoce como Etteila , este seudonimo era un anagrama del propio nombre del investigador. Ettelia se convirtio en el primer tarotista de la historia.
Diferentes interpretaciones
Los principales investigadores del simbolismo del tarot pertenecen a una de dos escuelas: frances o ingles. La principal diferencia entre las escuelas es donde colocan al Bufon en la serie de los Arcanos Mayores.
Escuela francesa
El fundador de la escuela francesa es Eliphas Levi. En 1856 , en su obra "Ensenanza y Ritual de Magia Superior", Eliphas Levi conecta por primera vez la Cabala y el Tarot, asociando los Arcanos Mayores del Tarot con las letras del hebreo y, por tanto, con los caminos del arbol Cabalistico. Fue este esquema el que SL McGregor Mathers utilizo al crear la baraja de tarot Golden Dawn. En 1887, Mathers comenzo a describir los atributos esotericos del tarot en su Libro de T.

Segun las ideas de la escuela francesa, el lazo "Bufon" debe colocarse entre los lazos "Corte" y "Paz". En este caso, la carta "Mago" abre varios arcanos mayores y le corresponde la letra hebrea "Aleph". El fundador de la escuela inglesa, Mathers, coloca al Bufon, el lazo cero, frente al Mago, ya que el cero es el comienzo de todos los demas numeros, asi como Nada es el progenitor de todas las cosas. En este sistema de correspondencia, Aleph ya esta correlacionado con el Loco.
Escuela inglesa
Ademas, la cuestion del simbolismo de las cartas fue tratada por Arthur Edward Waite, quien en 1910 publico el libro "La clave ilustrada del Tarot". Bajo su direccion, la senorita Pamela Coleman-Smith, una joven estadounidense Golden Dawn, dibujo una nueva baraja de tarot, llamada baraja Ryder. Waite coloco por primera vez en las cartas arcanos menores "numericos", que anteriormente mostraban unicamente simbolos de palo en el numero correspondiente a la denominacion de la carta, dibujos con una determinada trama, unicos para cada carta. Esto permitio ampliar la interpretacion de los arcanos menores en la adivinacion: si antes estas cartas se interpretaban exclusivamente segun la combinacion de palo y denominacion, ahora es posible utilizar el simbolismo de las imagenes.
Otra reforma significativa fue la reversion de las posiciones de los arcanos "Justicia" y "Fuerza" (en las primeras cubiertas - VIII y XI, en Waite - XI y VIII, respectivamente). Publicado simultaneamente con la baraja, el libro de Waite "Clave ilustrada del Tarot" ofrece una descripcion completa de la baraja, el simbolismo de las cartas y sus interpretaciones desde el punto de vista de Waite.

Tres decadas despues, A. Crowley creo su propia baraja en colaboracion con la artista Frida Harris. Aunque la baraja de Crowley esta hecha en general en el estilo "ingles", tambien le hizo cambios significativos: devolvio "Justicia" y "Fuerza" a sus posiciones "francesas" originales (VIII y XI), renombro algunos de los arcanos mayores, cambiando su interpretacion, y tambien dio a todas las cartas "numericas" de los arcanos menores sus propios nombres, reflejando su significado. Las cartas de figuras de los arcanos menores han sido renombradas: en lugar de las cuatro de "Pagina", "Caballero", "Reina" y "Rey", se utilizan las cuatro "Princesa", "Principe", "Reina" y "Caballero". El trabajo en la baraja, llamado " Tarot Tota" en honor a la deidad egipcia del mismo nombre, se completo en 1944.
Al mismo tiempo, Crowley publico bajo el seudonimo de Master Therion "The Book of Thoth" que proporciona una descripcion de la baraja y una decodificacion de su simbolismo segun las opiniones de Crowley.
La interpretacion de Crowley
La interpretacion de Crowley de las cartas difiere en muchos aspectos de la tradicion clasica, incluye interpretaciones de la astrologia europea, la Cabala, la mitologia de muchos pueblos, desde la India hasta Escandinavia. El simbolismo del tarot de Thoth es sumamente rico, muchos tarologos llaman a esta baraja la version mas saturada del tarot con simbolos; tambien es el menos sencillo de interpretar. Se cree que Crowley mantuvo en secreto algunos aspectos del simbolismo de su baraja, por lo que sus interpretaciones son a menudo complementadas y modificadas por interpretes. A pesar del deseo del autor de difundir su enfoque del tarot lo mas ampliamente posible, la baraja de Crowley se publico durante su vida solo en una edicion extremadamente limitada (200 copias) y en una forma inferior (mala calidad de impresion, los dibujos de tarjetas se toman de reproducciones del Libro de Thoth, solo se usan dos colores). Su amplia distribucion se produjo tras la muerte de los autores, cuando varias editoriales lanzaron la baraja en gran circulacion y en calidad normal, utilizando los originales de los dibujos realizados por Frieda Harris bajo la direccion de Crowley.


Author:
Burnham Hardison
Viewed:
41 Views
Check Out All Of 's Blogs!
Comments: