Glutathione Patch-Works Quickly Whitening Your Skin
Posted: August 23, 2022 @ 2:43 am
Glutathione is one of the most widely used ingredients for skin whitening. It can be found in skin care products, whitening injections, whitening pills, and health food. Many Glutathione-related products advertise that Glutathione can scavenge free radicals, antioxidant, anti-aging, whitening, spot removal, and almost everything else. So are these propaganda credible or not? Is it really that amazing?
01. What is "Glutathione"?
"Glutathione" exists widely in plants and animals and microorganisms, and is one of the most important non-protein sulfhydryl compounds in living organisms. It has both reduced glutathione (GSH) and oxidized glutathione (GSSG). It is the reduced glutathione (GSH) that is present in large quantities and plays a major role in living organisms, which is involved in intracellular redox reactions and is a coenzyme of some enzymes.
02. The role of "glutathione
1. Reduced glutathione (GSH) plays an important role in the human body and is widely used clinically for the treatment of liver diseases, tumors, oxygen toxicity, aging and endocrine diseases.
2. In the food industry, it is often used as a bioactive additive and antioxidant.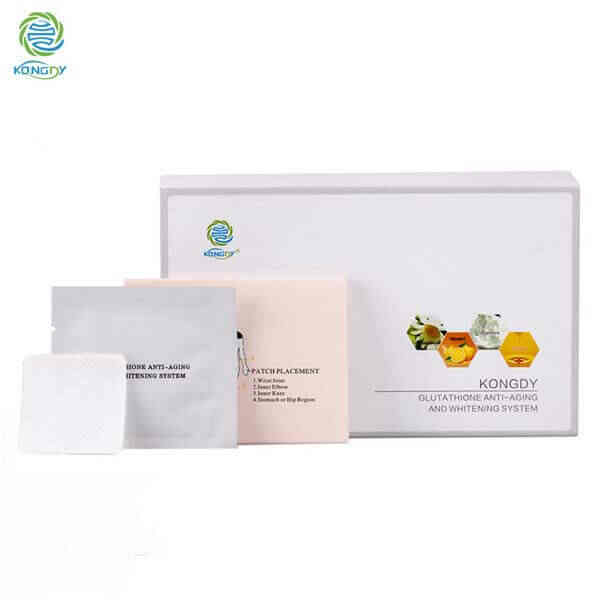 3. Glutathione is ubiquitous in the human body and is the main "killer" of free radicals in the body. When UV light hits the skin, it generates a large number of free radicals, which activate the melanin production mechanism. Glutathione can destroy these free radicals and prevent melanin production from the front end. Glutathione can inhibit the activity of complexinase and regulate the conversion mechanism from true melanin to brown melanin production.
4. Glutathione is widely involved in all aspects of melanin production, and can scavenge free radicals, antioxidant, skin whitening, lighten pigmentation, and have anti-aging effects.
Based on the principle of glutathione action, Henan Kangdi Medical Devices Co., Ltd. gathered an experienced elite team to develop Glutathione Patch, and then Kangdi will take you through the ingredients of Glutathione Patch, its action and some precautions when using it.
03. Glutathione Patch's Ingredients
1. Chamomile Oil: Help sleep and diminish inflammation.
2. Vitamin C: Whitening and inhibit the deposition of pigment.
3. Clutathione: Anti-oxidation and detox.
4. Glycerin: Mosturizing and whitening your skin.
04. Direction
1. Use only one patch at a time.
2. Patches may be worn for up to 12hours before discarding.
3. Apply the Kongdy glutathione patch to a clean.
4. Take it away before sleep.
05. Kindly notice
1. Be sure the patch is applied firmly. It may take 20 or 30 seconds to get all of the adhesice to stick firmly in place.
2. If you develop skin irritation from the adhesive, put the next patch in another area. Check with your doctor adout what to do next.
3. Pregnant and lactating mother should not use the patch.
06. Main Functions
1. It is the major antioxidant produced by the body.
2. Our immune systerms depend on a steady supply of glutathione. without it, our immune defenses become weakened.
3. It is important in detoxifying many substances.
4. Whitening and mois turizing your skin.
07. Whitening instruction
For first time you should apply one patch per day for fourteen consecutive days.
For continued maintenance simply continue 2 times per week application of the white patch.
Kongdy manufacturer has been focusing on various specifications of Medical Patch OEM&ODM Processing for more than 30 years. Also Kongdy is a large-scal Medical Patch OEM base focusing on Medical Patch R&D, production and sales.
08. OEM Service
We are able to customize all kinds of patches according to customers' formulation, existing brand name. We also offer the capabilities of formulating custom proprietary formulas for many different uses. Meanwhile, we are able to print your logo and your company information on the patches, packaging bag and box. Any interests, welcome your inquiry!Click here to contact us now!
KONGDY: www.kongdymedical.com
Henan Kangdi Medical Devices Co., Ltd.
Contact Person: Sean Chen
WhatsApp/Wechat:+8617335210311
Business Inquires: [email protected]
Click to contact with me now: https://wa.me/861733521311
Author:
Sean
Viewed:
9 Views
Check Out All Of 's Blogs!
Comments: