What to Look for in a Pop Up Canopy
Posted: February 4, 2023 @ 11:55 am
A unique kind of huge tent called a pop-up canopy is designed to up rapidly and provide reasonable cover for both indoor and outdoor activities. A four-leg design with expanded sides is included in almost all pop-up canopies allowing quick and simple packaging, positioning, setup, and re-packing. While some are constructed of plastic or lower-grade metal, heavy-duty canopy tents are built of aluminum. All pop-up canopies, as their name indicates, feature a canopy (or roof) that is normally constructed from canvas or similar kind of commercial-grade synthetic fabric. Waterproof canopies are available on several heavy-duty canopy tents. To provide shelter, privacy, and advertising space, users may opt to add material to each of their canopies' sides.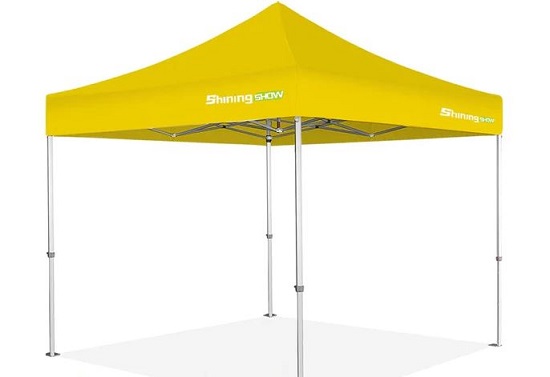 Characteristics of a Pop-Up Canopy
Strength
The most crucial feature to look for in a pop-up canopy is strength. "Strength" describes a canopy's overall toughness and capacity to maintain stability in adverse conditions. The components of a canopy, namely those employed in its sides and legs, are where its strength begins. As previously stated, industrial-grade aluminum or other durable metals are used to construct heavy-duty canopy tents. Plastics and lower-quality metals are used to build flimsier canopy tents. To minimize the risk of damage and guarantee that your pop-up canopy tent lasts for many years, make sure to pick a model made with sturdy metal structural components while buying.
Water Repellency
Though it comes under the broad category of "strength," water resistance is given its own section because of how crucial it is in general. Speaking of umbrellas, a pop-up structure that is actually water resistant will serve the same purpose as one, keeping everyone within it dry in the case of rain. The main function of your shelter during inclement weather will be defeated by canopies built of materials that are not waterproof since they will soak through and leak. Choose a product designed with waterproof materials, such as a heavy-duty canopy tent, to guarantee that your pop-up canopy operates when it matters.
Effortless Use
The simplicity of use that pop-up canopies provide to consumers is one of its main benefits. Pop-up canopies are a particularly labor-efficient alternative to pricey rentals or "some assembly needed" shelter solutions. There are no additional components in these all-inclusive shelter options that need to be assembled separately. Pop-up canopies just need to be opened, raised to the proper height, and laid down on level ground. A pop-up canopy may be put up (or taken down) in a couple of minutes with a team of three or more persons. The user-friendliness of pop-up canopies varies, nevertheless, from one to the next.
Custom Choices
If you're going to spend money on a pop-up canopy tent for your business, you want it to meet all of your dimensions and design specifications. Purchasing a generic pop-up canopy that falls short of your needs is of no use. It's advisable to purchase from a reputable business that provides bespoke choices for the canopy tents they sell if you want to make sure your pop-up canopy tent has everything you want. The easiest method to achieve this is to purchase directly from manufacturers. For you to have your brand, text, or logo on full show, the best manufacturers in the sector will provide a variety of size possibilities as well as bespoke canopy roof and side printing.
Affordable Prices
Price is nearly as crucial when looking for a pop-up canopy tent as overall quality. It is pointless to spend a lot of money on a high-quality tent that will never pay for itself. On the other side, buying the cheapest pop-up canopy tent will often result in a subpar or completely defective product. You need a pop-up canopy tent that is both effective and reasonably priced. By offering our top-notch pop-up canopy tents at reasonable prices, Extreme Canopy enables you to enjoy the best of both worlds. Check out our collection of pop-up canopy tents to see our affordable rates on many popular types, and order from us online to start saving money right now!
Author:
Mohamed Kalfan
Viewed:
67 Views
Check Out All Of 's Blogs!
Comments: