| | |
| --- | --- |
| Soy Protein Ingredients Market Size, Share Forecast 2027 | Posted: June 27, 2023 |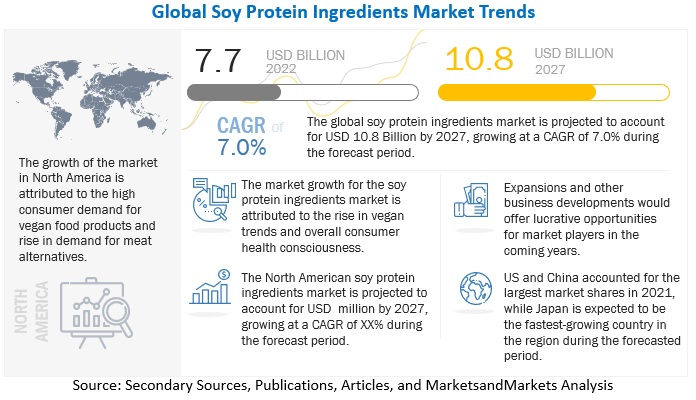 The soy protein ingredients market was valued at $7.7 billion in 2022, and is projected to reach at $10.8 billion by 2027, registering a CAGR of 7.0% from 2022 to 2027.
Soy Protein Ingredients Market Drivers: Demand for cheaper protein source
Increased crop cultivation in developing regions such as South America and Asia Pacific, in addition to the already widespread cultivation across the globe, has increased the availability of soy proteins. Raw materials are, therefore, easy to obtain from contract farmers or oilseed crushers offering soy meal. The low processing costs associated with soy protein are suitable for the operational demands of manufacturers and thereby allow the processors to spend effectively on product development. As a result of these trends, soy proteins are cheaper when compared to that of other protein sources such as meat, dairy, and whey proteins. Additionally, the prices of conventional dairy products have increased in the recent past, and soy protein, one of the major plant sources of protein, is one of the best alternatives in terms of price.
Soy Protein Ingredients Market Opportunities: Demand for organic soy protein
The organic soy protein market has the potential to change the business landscape in the overall soy protein ingredients market. According to the Research Institute of Organic Agriculture (FiBL), around 1.8 million farmers across 162 countries carried out organic cultivation on more than 37.0 million hectares of agricultural land in 2013. Growth in the organic food products market is also expected to boost the growth of the organic market. Government and non-government organizations offer financial aid, R&D programs, and subsidies to support traditional farmers in switching to organic farming. These organizations include the Research Institute of Organic Agriculture, Switzerland (FiBL), the Agricultural & Processed Food Products Export Development Authority (APEDA) in India, and the US Department of Agriculture (USDA) in the US. Demand for organic food ingredients is high in developed regions such as North America and Europe. The consumer preference for healthy products is rising due to the increasing consumer awareness about the health benefits of consuming organic food products. As a result, marketing campaigns are planned to highlight their use and health benefit claims.
Speak to Analyst: https://www.marketsandmarkets.com/speaktoanalystNew.asp?id=857
Soy Protein Ingredients Market Key Players
The key players in this market include ADM (US), Wilmar International Co., Ltd. (Singapore), Cargill, Incorporated (US), CHS, Inc. (US), and Fuji Oil Holdings Inc (Japan).
Asia Pacific is projected to be the fastest growing region in market, in 2022; it is anticipated to grow at a significant CAGR
The soy protein ingredients market in Asia Pacific is projected to witness strong growth driven by large economies, such as China, India, Japan, and Australia. The level of overall investment in the region has increased substantially over the past decade, especially in China. The region has also witnessed a rise in vegan food consumption in recent years. The perceived benefits regarding people's health, environment, and religious considerations significantly contribute to the adoption of vegan and vegetarian diets in the region. Also, the rising health concerns have led people to reduce their meat intake and add plant-based foods, including soy proteins, to their diets.