So-called mobile phone jammer
Posted: August 28, 2020 @ 4:02 am
The problem in exam situations is known. The use of unauthorized aids such as cell phones, smartphones, tablets, wearables or the like. counts as attempted deception in exam situations.
For some time now, it has been possible to observe more and more often a remedy through the use of so-called mobile phone jammer.
A technical malfunction can generate a jamming transmitter, this must then be repaired or switched off, or the source of the interference must be accepted technically. So-called black transmitters or some legally operated transmitters are also referred to as jammers whose signal interferes with the reception of another transmitter. In particular in the long, medium and short wave range, such interference often occurs when receiving distant transmitters, as large ranges are possible in these frequency ranges and fewer free channels are available than the transmitters operate. Directional antennas provide a certain remedy, both on the sender and receiver side. Badly shielded or badly suppressed devices can also become jammers.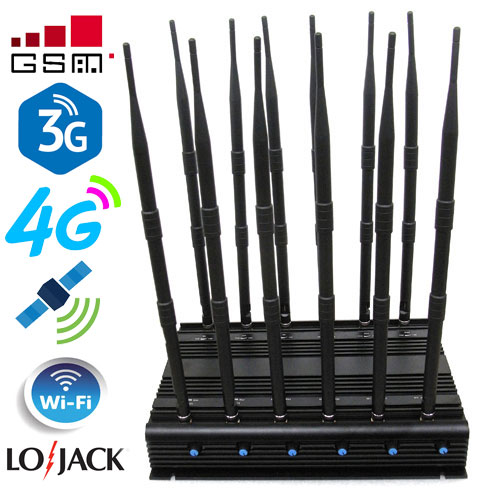 A signal blocker makes it difficult or impossible to receive a radio signal (e.g. from radio, television, mobile communications or GPS) properly. The jamming transmitter, just like the transmitter to be disrupted, sends out electromagnetic waves and completely or partially superimposes the original waves. It can work on the same or a neighboring frequency of the disturbed receiver. The field strength, the modulation of the jammer and the type of the disturbed message are important.
There are many potential buyers for cell phone jammers. Wherever the use of cell phones is undesirable, such jammers would probably quickly establish themselves without the ban: Schools, churches, cinemas and theaters, but also some companies and employers would probably like to use cell phone jammers. Stores could prevent customers from making online price comparisons in-store.
The use of devices that scan certain frequency ranges and that only indicate, without specific position determination, that there is a connected mobile device in a room, is permissible under data protection law from the point of view of the Ministry of Culture, since no personal data is processed.
However, the question arises whether the use of such a device is sensible or useful and therefore necessary. In public schools in Baden-Württemberg, even taking a cell phone with you is an act of deception due to the special regulations that apply to it. Since the effect of such a device can easily be bypassed, for example, if the cell phone is switched to flight mode, a scanner would fail to serve its purpose in examination situations. In this case the frequency meter could not detect the device; but this would still be illegally carried, which in turn represents an act of deception.
Author:
mobilejammer
Viewed:
22 Views
Check Out All Of 's Blogs!
Comments:
| | |
| --- | --- |
| Posted By: | Stoersender |
| Location: | Birmingham, birminghan, Albania |
| Storeboard City: | Tirana, Albania |
| Phone: | 138 7652 8974 |
| Description: | Jammer Störsenderhttps://www.jammer-shop.com/de/ |
| | |