| | |
| --- | --- |
| What Are Industrial Electrical Safety Solutions | Posted: June 4, 2023 |
Industrial electrical safety solutions refer to a comprehensive set of measures, protocols, and strategies implemented in industrial settings to ensure the safety of personnel and equipment when working with electrical systems and machinery. These solutions aim to mitigate the risks associated with electrical hazards and prevent accidents, injuries, and property damage.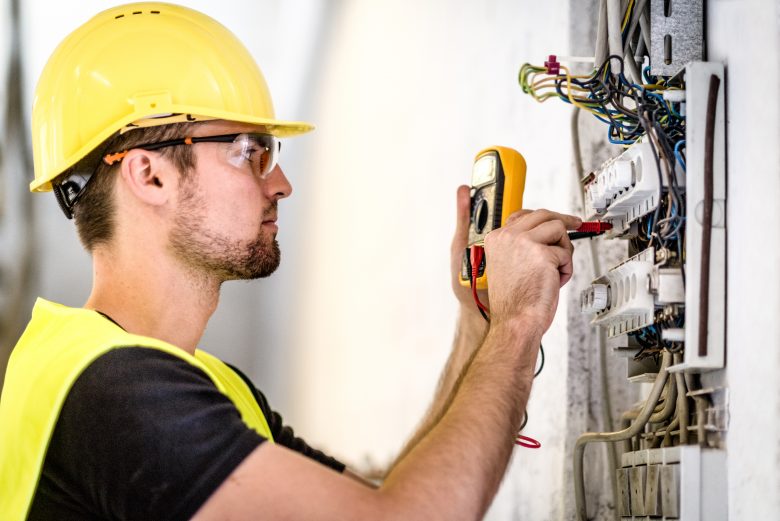 Businesses of different scales can benefit from industrial electrical safety solutions in several ways
Enhanced Workplace Safety: Implementing safety solutions helps create a safer work environment, reducing the likelihood of electrical accidents and injuries. This not only protects employees but also minimizes downtime and related costs resulting from workplace incidents.

Compliance with Regulations: Adhering to electrical safety regulations and standards is crucial for businesses to avoid legal penalties and maintain a positive reputation. Industrial electrical safety solutions assist companies in meeting compliance requirements, ensuring they operate within the prescribed guidelines.

Risk Mitigation: Electrical hazards pose significant risks to both personnel and equipment. Implementing safety solutions mitigates these risks by identifying potential hazards, implementing preventive measures, and training employees to handle electrical equipment safely.

Increased Productivity: A safe working environment fosters productivity by instilling confidence in employees and enabling them to focus on their tasks without worrying about potential electrical hazards. This leads to improved efficiency and overall productivity.

Cost Savings: Preventing accidents and damage through effective electrical safety solutions can save businesses significant costs associated with medical expenses, equipment repairs, downtime, insurance claims, and legal consequences. By investing in safety measures, businesses can avoid these financial burdens.

Employee Morale and Retention: Prioritizing the safety and well-being of employees creates a positive work culture, increasing employee morale and satisfaction. When workers feel safe and valued, they are more likely to stay with the company, reducing turnover and associated recruitment and training costs.
Maintaining electrical safety in the workplace
Maintaining electrical safety in the workplace is crucial to prevent accidents, protect employees, and ensure smooth operations. Here are key steps that companies can take to maintain electrical safety:
Regular Inspections: Conduct routine inspections of electrical systems, equipment, and wiring to identify any signs of wear, damage, or malfunction. Address issues promptly to prevent potential hazards.

Adequate Training: Provide comprehensive training programs to employees on electrical safety practices, including proper handling of equipment, identifying hazards, and following safety protocols. Regularly refresh training to reinforce knowledge and awareness.

Clear Safety Procedures: Establish clear safety procedures and guidelines that outline best practices for electrical work, including lockout/tagout procedures, use of personal protective equipment (PPE), and safe handling of energized equipment.

Equipment Maintenance: Implement a proactive equipment maintenance program to ensure electrical systems are functioning optimally. Regularly inspect, clean, and service equipment to prevent malfunctions and reduce the risk of electrical incidents.

Hazard Identification: Conduct thorough risk assessments to identify potential electrical hazards in the workplace. Take necessary measures to eliminate or minimize risks, such as proper labeling, guarding, and insulation of electrical components.

Safety Culture Promotion: Foster a culture of safety by promoting awareness, accountability, and active participation from all employees. Encourage reporting of potential hazards, provide avenues for suggestions and feedback, and recognize and reward adherence to safety practices.

Compliance with Standards: Stay updated with relevant electrical safety standards and regulations, such as those set by the Occupational Safety and Health Administration (OSHA) or National Fire Protection Association (NFPA). Ensure compliance with electrical codes and incorporate them into workplace practices.

Emergency Preparedness: Develop and communicate emergency response plans for electrical incidents, including evacuation procedures and protocols for handling electrical shocks or fires. Conduct regular drills to familiarize employees with emergency procedures.

Continuous Improvement: Encourage ongoing evaluation and improvement of electrical safety measures. Analyze near-miss incidents, conduct incident investigations, and implement corrective actions to prevent similar incidents in the future.

External Expertise: Consider engaging electrical safety professionals or consultants to assess and advise on electrical safety practices, perform audits or arc flash studies, and provide specialized training to employees.
By following these measures and creating a comprehensive electrical safety program, companies can prioritize the well-being of their employees, mitigate electrical hazards, and maintain a safe work environment.
Workplace electrical safety solutions from Leaf Electrical Safety
In summary, industrial electrical safety solutions provide a structured approach to mitigate electrical risks, comply with regulations, enhance workplace safety, increase productivity, save costs, and foster a positive work environment. Regardless of business scale, investing in these solutions is essential for ensuring the well-being of employees and the long-term success of the organization.
At Leaf Electrical Safety (https://leafelectricalsafety.com/) we know you are the kind of person who wants to provide a safe place for their employees to work. In order for that to happen, you need to have systems and processes built into their everyday work.
The problem is that you're busy focusing on the job at hand and the standards and regulations seem like they are impossible to follow.
This makes you feel like it's hopeless and you might as well forget it. We believe that no one should ever feel this way.
That's why we've put together a team of experts who are ready to help provide professional electrical safety services. Whether it's electrical safety training, program development services, an arc flash study or an audit you need, we are ready to help.
Schedule a free consultation today to take the first step in creating a professional electrical safety environment for your team in Canada & the USA.