Calling the Attention of Residents of New Delhi – Don't Miss Out on Huge Subsidy on Home Solar Systems When You Go Solar with MYSUN This Summer
Posted: March 28, 2023 @ 7:51 am
If you're a resident of New Delhi (areas like Vasant Kunj, South Extension, GK, GK2, Safdarjung, Punjabi Bagh, Mansarovar Garden, Shahdara etc), or any other part of Delhi, India, you may be interested to know that you can avail significant subsidies on home solar systems by going solar with MYSUN. The Government of India provides financial assistance to homeowners who install rooftop solar panels through its Grid-Connected Rooftop Solar Power Scheme. Under this scheme, homeowners can receive up to 40% of the benchmark cost, or up to Rs. 40,000 per kWp, whichever is lower. The process of getting the subsidy is highly transparent and you can refer to our article here Avail Huge Subsidy on Home Solar Systems When You Go Solar with MYSUN - Rediscover the Sun with MYSUN - Solar Power Company in India for the details.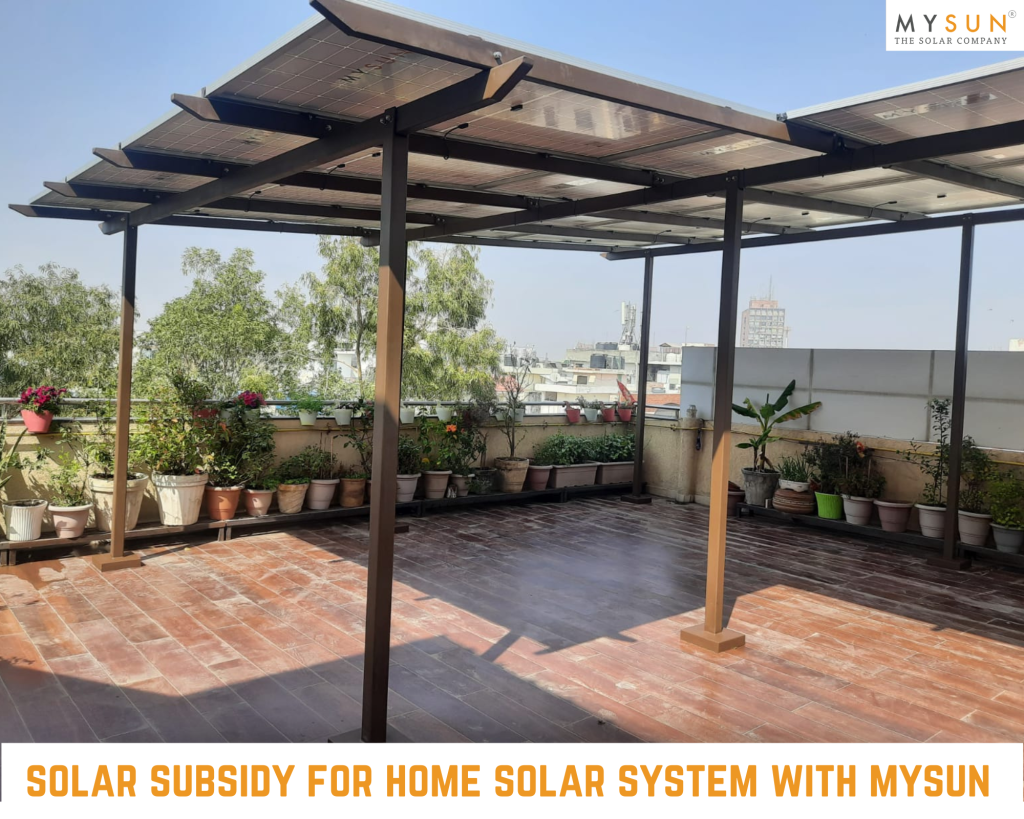 Switching to solar energy not only saves you money on your electricity bills but also helps reduce your carbon footprint. By generating your own clean and renewable energy, you can contribute to the fight against climate change while enjoying the benefits of energy independence. This is especially functional during summers, where an average household's electricity bill would be as high as INR 10,000~30,000. With Solar, you can easily reduce about 80% of the same.
MYSUN, a leading solar energy company in India, offers end-to-end solar solutions to help you design and install a customized solar system that meets your energy needs and budget. With its advanced technology and high-quality products, we at MYSUN ensure maximum efficiency and reliability, as well as excellent after-sales service and maintenance support. Not just this, you have a wide range of products that meet practically all budget demands and lucrative financing offerings through trusted partners like PayTM, Bajaj Finserv too. While speaking to our support team, do not forget to ask about ZERO EMI schemes as well as 'Get Ready Ready For Summer' discounts.
When you choose MYSUN, you benefit from its expertise and experience in the solar energy industry. MYSUN's team of experts can help you determine the optimal size and placement of your solar system, as well as guide you through the process of obtaining permits and approvals. Our customized solar solutions are tailored to meet the unique energy needs of each homeowner, ensuring that you get the most out of your investment.
Our solar systems come equipped with advanced technology, such as remote monitoring and performance analysis, which allows you to track your energy production and consumption in real-time. This helps you identify opportunities for further energy savings and maximize the benefits of your solar system.
In conclusion, if you're a resident of New Delhi who wants to take advantage of the subsidies offered by the government and enjoy the benefits of solar energy, then MYSUN is the right choice for you. Contact us today to learn more about its services and start enjoying the benefits of solar power. Contact us on 8448380218 or e-mail us at: [email protected]
Source Url- Calling the Attention of Residents of New Delhi – Don't Miss Out on Huge Subsidy on Home Solar Systems When You Go Solar with MYSUN This Summer
Author:
Anchit
Viewed:
2 Views
Check Out All Of 's Blogs!
Comments: